Jean Dreze backs parents' demand to reopen primary schools in Jharkhand
'When state government can allow a stadium to be crowded for a cricket match, then why keep anganwadis closed?'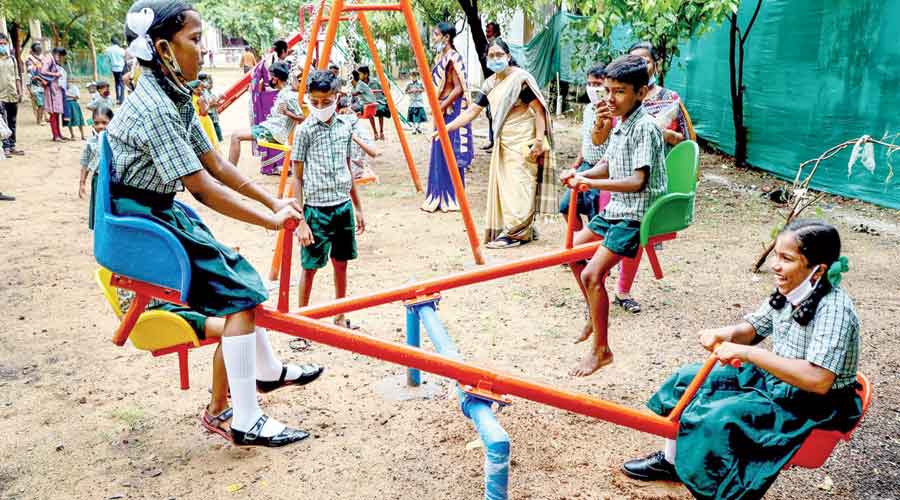 ---
Ranchi
|
Published 20.11.21, 06:35 PM
|
---
The demand for resuming in-person classes at primary schools has grown louder in Jharkhand following a T20 international match between India and New Zealand hosted by Ranchi on Friday amid Covid-19 restrictions.
Parents' associations in the state have questioned the government's decision of allowing a crowded  stadium - only half the seating capacity (40,000) was allowed to be used for spectators -  for the T20 match yet keeping schools for primary students closed citing Covid-19 scare.
"The government should reconsider its decision of keeping primary schools closed as the future of several children is at stake. When you can allow a gathering of several thousand spectators for a cricket match, then why is reopening schools a problem?" asked Ajay Rai, the president of Jharkhand Parents' Association, the largest parents' body in the state.
Renowned economist Jean Dreze has also demanded the reopening of primary schools and Anganwadi Centres in the state. Dreze on Friday staged a demonstration along with other child rights activists in the vicinity of the JSCA International Stadium Complex during the T20 match in an effort to draw the attention of the government towards the plight of several thousand children studying in government primary schools.
"Primary schools and Anganwadi centres have remained closed for a long time. This is negatively affecting the future of several children," said Dreze, clarifying that he was not against sporting activities, but he wanted the government to realise that primary education was also as important as sports.
Schools across Jharkhand remained closed for more than a year since the Covid-19 pandemic hit the state back in March 2020. While the government has gradually resumed in-person classes for students of class 6 and above, primary schools and nursery schools still remain closed. Anganwadi centres, where children in the age bracket of six months to six years and lactating mothers are provided nutritional support, have also remained closed.
Jharkhand Parents' Association had earlier demanded vaccination of school students in order to keep them safe. However, the association has now changed its stand and asked for resumption of in-person classes at schools at the earliest.
"Since Covid cases have reduced, and the government thinks it is safe to host cricket matches with thousands of spectators, I don't think reopening primary schools should pose any risks if Covid protocol is followed," said Rai.
As per latest government data, the active caseload of Covid-19 has dropped in the past couple of days in Jharkhand. On Saturday morning, there were 133 active Covid-19 cases in the state, and 67 of them were in Ranchi alone, highlighted data compiled by the National Health Mission (NHM).