Jamshedpur hospital refuses to set up promised Covid ward
District surveillance officer mulls suspension of licence as Uma Superspeciality Hospital has gone back on its word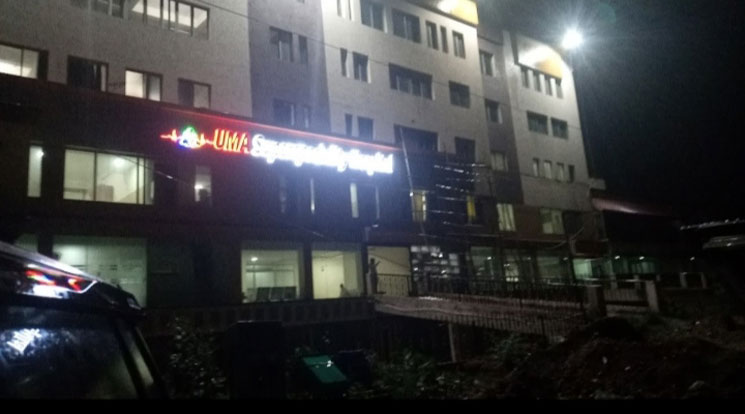 ---
---
A private hospital that reneged on its commitment to provide a portion of its facilities exclusively for Covid-19 patients has prompted district authorities to consider revoking its operational licence.
When a team of surveillance officials from East Singhbhum, led by district surveillance officer A.K. Lal, visited Uma Superspeciality Hospital near Big Bazaar on NH-33 in Mango for an inspection prior to sending Covid patients, the hospital management flatly refused to provide any facility.
Lal said the management had in April committed to dedicate 50 beds for a special Covid ward at the hospital which has 100 beds with ventilators.
"As the management of the Uma Superspeciality Hospital refused to provide any facility for the treatment of Covid patients against their earlier commitment, we are left with no option but to recommend cancellation of its licence," Lal told The Telegraph Online.
"If there was a problem, the hospital management should not have given a commitment. We would have made alternate arrangements," he said.
When The Telegraph Online sought a comment from Shashank Dey, an administrative official associated with Uma Superspeciality Hospital, he declined to say anything on the matter.
Lal said the rising number of coronavirus cases in the district was the reason why they decided to inspect facilities at Uma Superspeciality Hospital. In all, five hospitals have been designated Covid hospitals, he explained.
"Presently, Covid patients are undergoing treatment at three places, Tata Main Hospital, Tata Motors Hospital and MGM Medical College Hospital. Admission of Covid patients in the remaining two hospitals, Uma Superspeciality Hospital and St John's Hospital, was yet to begin. Since occupancy in the three hospitals has reached over 90 per cent we decided to look at the two remaining hospitals," said.
Lal clarified that the management and doctors at St John's Hospital welcomed the inspection team and said they were ready to treat Covid patients. "But the management of Uma Superspeciality Hospital declined to extend treatment facilities," he said.
As many as 16 more people tested positive by Monday evening taking the total number of Covid-19 cases to 503, which includes two deaths.
District civil surgeon Dr R.N. Jha said presently most Covid cases were emerging from within city limits. "The number of Covid cases is increasing fast and even workers employed in big industries are now beginning to test positive," he said.