Jagarnath Mahto back on ventilator, experts being flown in
Minister may require lung transplant, says CM; decision on Monday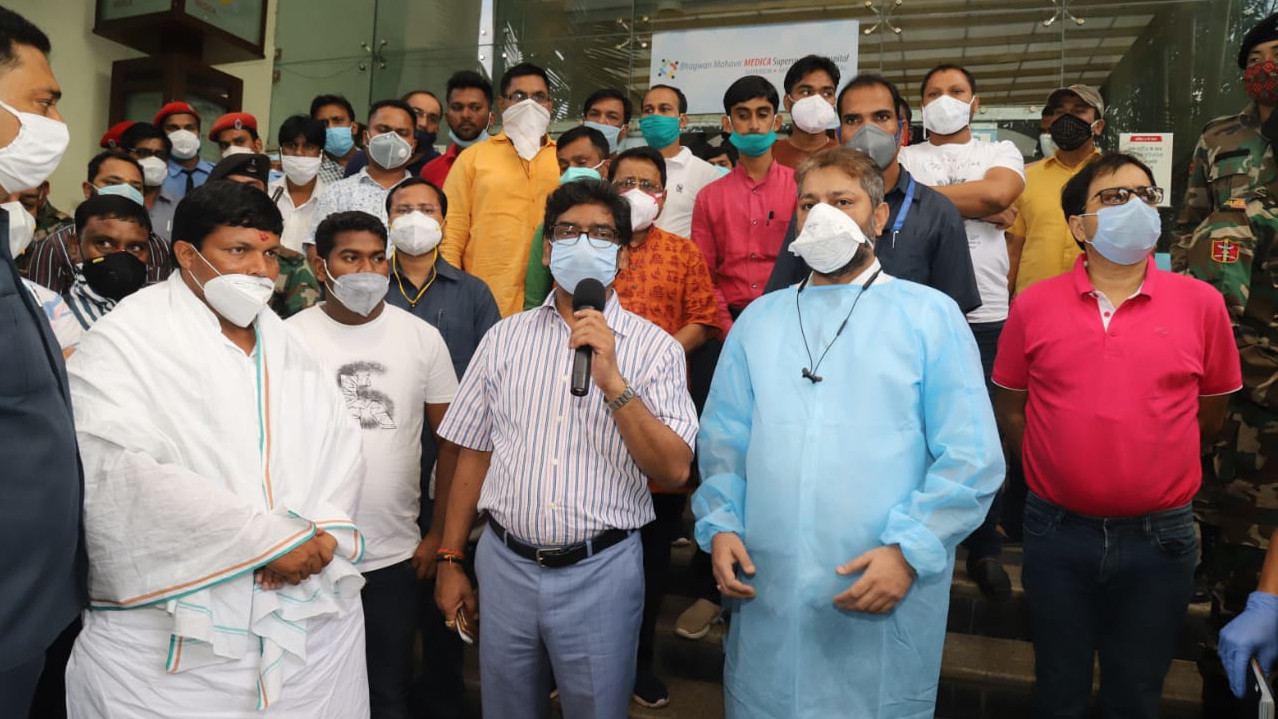 ---
|
Ranchi
|
Published 18.10.20, 09:06 PM
---
Jharkhand education minister Jagarnath Mahto, battling Covid-19 for over a fortnight at a private hospital here, was put back on ventilator on Sunday after his condition deteriorated and chief minister Hemant Soren took it upon himself to talk to doctors and plan the next course of his treatment.
Hemant said experts were being flown in to help with Mahto's treatment and indicated that the 52-year-old minister may require lung transplant. "We are on our toes… doing all that is possible for his recovery," he said.
Speaking to the media outside Bhagwan Mahavir Medica Superspecialty Hospital where Mahto is being treated, Hemant said: "Lung experts from Chennai are scheduled to come tomorrow (Monday), but we have requested them to come tonight (Sunday) itself. As advised, decision to shift him to Chennai or to any hospital in any other state for possible lung transplant will be taken on Monday after his check-up by visiting doctors."
On insistence of the chief minister, Medica authorities had consulted two experts from Medanta Hospital in Gurgaon on Saturday, via a zoom call, to explore other treatment possibilities.
Sources said that Mahto's oxygen saturation level fell below 60 per cent, lower than the prescribed limit of 90 per cent on Sunday which forced doctors to shift him on full ventilator support.
Medica's director and critical care head Dr Vijay Mishra said Mahto's radiological and pathological reports were fine, but that these weren't reflecting on his health condition. "After assessing the situation, we are taking every critical decision promptly. Although he is holding on, he is critical, which prompted us to put him on ventilator," he said.
After testing positive for the coronavirus on September 28, Mahto was initially treated at state-owned Rajendra Institute of Medical Sciences (RIMS). Later, on October 1, he was shifted to Medica since his condition did not improve. Subsequently, the state government formed a medical team comprising experts from RIMS and Medica to work in tandem and treat him.
Mahto is the fifth minister in the 11-member state cabinet to have tested positive for Covid-19 since the outbreak of the pandemic in Jharkhand in March. While state minority welfare minister Haji Hussain Ansari died of cardiac arrest last month arrest hours after testing negative for Covid -19, other ministers—Banna Gupta (health), Mithilesh Thakur (water resources) and Badal Patralekh (agriculture) _ have recovered and resumed duties.
Over a dozen MLAs cutting across party lines, who were also infected, were cured too.
Mahto made headlines in August after he got himself enrolled in a college in Bokaro to complete his intermediate studies. He also earned applause from many quarters when he gifted cars to this year's Jharkhand Academic Council (JAC) toppers in matric and intermediate exams.