IIT (ISM) implements ways to conserve and reuse water
Institute makes use of rooftop rainwater-harvesting structures, works on project to prevent waste of stormwater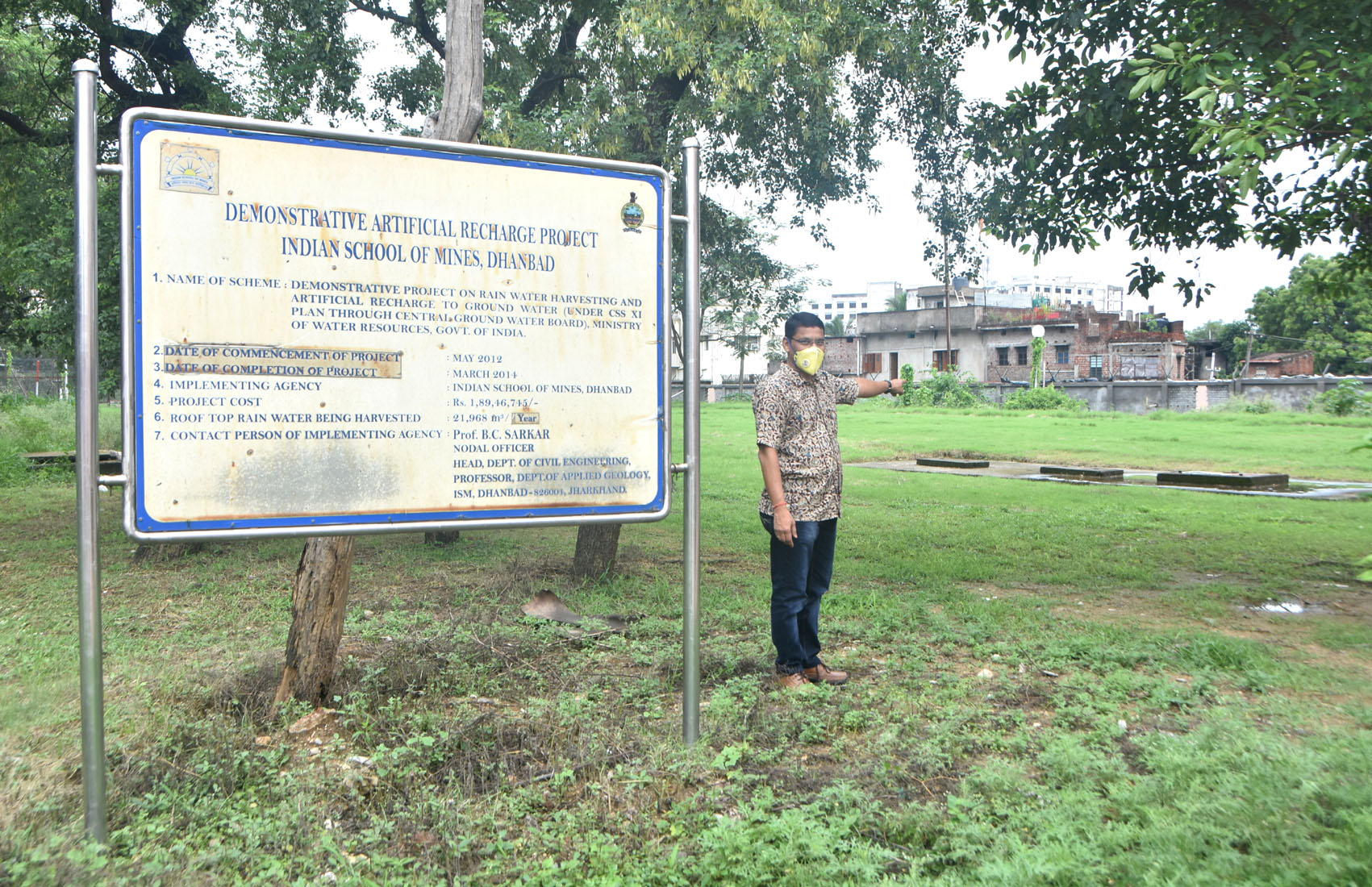 ---
|
Dhanbad
|
Published 28.06.20, 05:59 PM
---
Projects to harvest rainwater and utilise treated sewage water for gardening are being implemented at the Indian Institute of Technology (Indian School of Mines), Dhanbad, in view of the need to conserve water and achieve zero-water discharge at the institute.
The institute is using the water generated through sinks, showers, washing machines and dishwashers to flush toilets and other purposes.
It is also working on a project to use the storm water to prevent the surface runoff of water.
Professor B.C. Sarkar of the department of applied geology and the principal investigator of the project, told The Telegraph Online on Sunday that altogether 54 recharge structures worth Rs 1.89 crore had been sanctioned in 2011 and launched in 2012 under the project of the ministry of water resources, river development and Ganga rejuvenation.
"After the construction of rooftop rainwater-harvesting structures, the campus reported an increase of 4.06 per cent in the recharge of groundwater from 2014 to 2015, and 27.2 per cent from 2015 to 2016," said Sarkar.
He said the total recharge in 2016 was reported to be 425,923 cubic metres.
"There was a slight decline in the groundwater level during 2017 and 2018 due to a decrease in rainfall," he added.
"The provision for rooftop rainwater harvesting is mandatory in all newly-constructed buildings here. We may need to construct fresh pits again as the average life of recharge pits is 10 years and pits constructed in 2012 may turn redundant in the next two years," said Sarkar.
On the use of treated sewage water for horticulture, the institute's director, Rajiv Shekhar, said, "The wastewater treated through three sewage treatment plants is being utilised for gardening purposes. The laying of a pipeline to supply treated water from two different sewage treatment plants has already been completed, facilitating use of around 680 kilo litres per day (KLD) of treated wastewater. Another treatment plant of 450 kilo litres per day capacity is also functional."
The institute has constructed a pilot scale plant to treat 40 KLD of water generated from Sapphire hostel.
The central public works department has been instructed to construct a dual-piping system in the new buildings. The flushing cisterns will be connected to the treated grey water.
A total of 680 KLD water will be used to flush toilets.
"We are also working on a project to use the stormwater as the present surface runoff goes into drains outside the campus," Shekhar said.
The total amount of surface runoff generated during the rainy season is 300 millilitres per annum.
"The institute plans to develop storage for this water to be used for various purposes. The detailed advice of experts will be sought to contain the storm water within the campus," he said.