Idol makers stare at losses for second consecutive year of lockdown curbs
Anticipating a third wave, hopes dashed for Dhanbad and Bengal artisans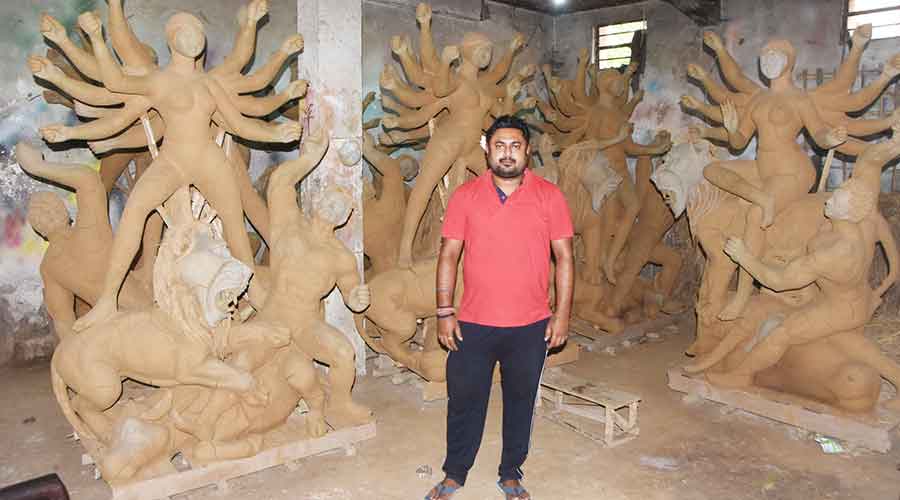 Abhishek Paul, son of Dulal Paul at their workshop in Luby Circular Road in Dhanbad on Sunday.
Gautam Dey
---
Dhanbad
|
Published 24.05.21, 04:53 PM
|
---
Dhanbad sculptors who were enthusiastic to begin preparations for making idols for this Durga Puja are increasingly becoming sceptical with the second wave of the Covid pandemic.
Having suffered huge losses during last year's lockdown, the sculptors had procured huge quantities of raw material since the situation showed signs of improvement in January and February.
Some idols that have been completed are lying at the workshop of a couple of famous sculptors while others are in different stages of preparation. Work is suspended since most artisans have returned to Bengal and the procurement of essential articles required for completion has become difficult with the lockdown in both states.
"We at our workshop at Luby Circular Road make 50-60 idols every year during Durga Puja and keep 13 artists of Krishna Nagar in Bengal on our regular salary and started preparations for Durga Puja in January itself," said Abhishek Paul, son of famous artist Dulal Paul, to The Telegraph Online.
"Twenty of our idols are in almost ready condition while the main raw material required for other over 30 pieces are also lying with us," said Paul and added that work is suspended due to lack of both artists and other materials.
"The Bengal artists working with us have left for their respective places since the beginning of lockdown and even as they are willing to come they could not come due to suspension of almost all regular trains running between Dhanbad and Howrah," said Paul.
"We are also in a dilemma over calling them again with the possibility of a third wave affecting the puja this year in case of non sale due to a possibility of a  third wave during Durga Puja and as a result we will have to suffer huge losses," said Paul.
Coal town painter and sculptor Swapan Paul said, "We have also procured raw materials and began some framework in April for around 17 idols, but as soon as we began work the lockdown was imposed and all our artists have returned to Bengal."
"If the situation remains the same as that of last year we will have to face difficulty even to manage the basic necessity for our life," said the sculptor.