Home Guard constables launch indefinite stir in Dhanbad
735 candidates selected in 2018, but yet to be appointed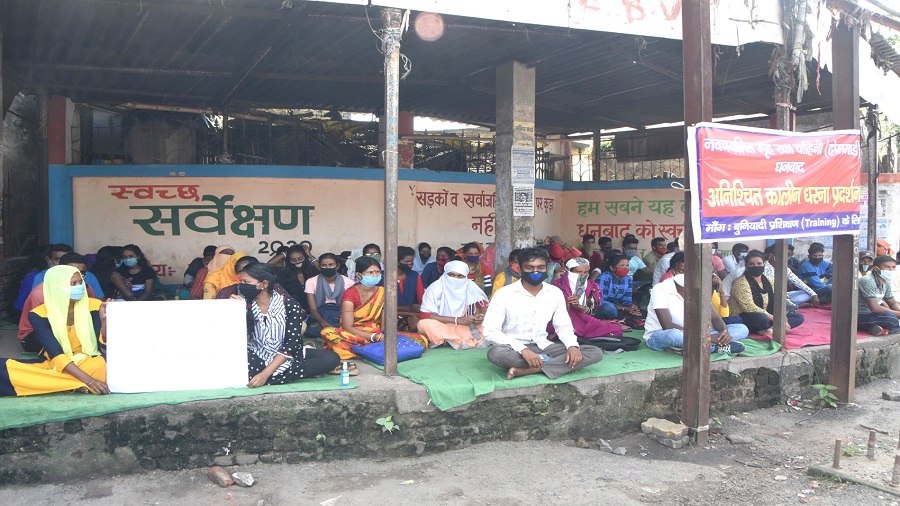 Home Guard constables on an indefinite dharna in support of their demands at Randhir Verma Chowk in Dhanbad on Monday
Gautam Dey
---
Dhanbad
|
Published 28.09.20, 04:54 PM
|
---
Over 100 candidates selected for the post of Home Guard constable in 2017 launched an indefinite protest at Randhir Verma Chowk near the district headquarters on Monday to demand immediate appointment.
Palak Rai (23), who was among those who took part, said, "We applied as per the recruitment notice of 2017 for 1,038 candidates. As many as 735 were selected following a physical test, written examination and medical examination held in 2018. But two years have gone by and we are yet to join work."
Rai, whose mother is a cancer patient and father suffers from heart ailments, said it was impossible to continue any further without a job. "My elder brother is unemployed. I also lost my job as a salesman in a garment shop during the lockdown. Our family of four persons is dependent on the income of my mother, who despite suffering from cancer, is compelled to work as a house maid," he said.
Rai, a resident of Baramsia, said they had opened bank accounts on the instruction of the authorities, but the process of their appointment was still not over. "Even basic training, a prerequisite for appointment in the Home Guard, is yet to be conducted," he rued.
Chhamori Hembrom (29), a resident of Kenduatand village of Naxal affected Purbi Tundi block of Dhanbad, said she had joined the protest after leaving her six-month-old daughter at home.
"My husband, Mirinlal Marandi, is a daily wager at a construction site. My family, including my mother-in-law and father-in-law, are dependent on the little but uncertain income of my husband. That has also been affected because of the lockdown due to slow pace of construction work," she said.
Marandi said they have been approaching the authorities, including the DGP, DIG, DG of Home Guard and even the chief minister, since 2018, but nothing had happened.
"Some of the candidates later got selected for other services, like Border Security Force, but they opted for Home Guard in the hope of remaining in their home districts. Who knew that they would end up like this?" she said.
Dolly Kumari, another candidate protesting at the site, said they were fed up. "The assurances of authorities are yielding no results. We have come here to seek a date for our joining," she said.