Hit by train, female elephant dies on tracks in Ghatshila sub-division
Forest official writes to railways on speed limit in jumbo zone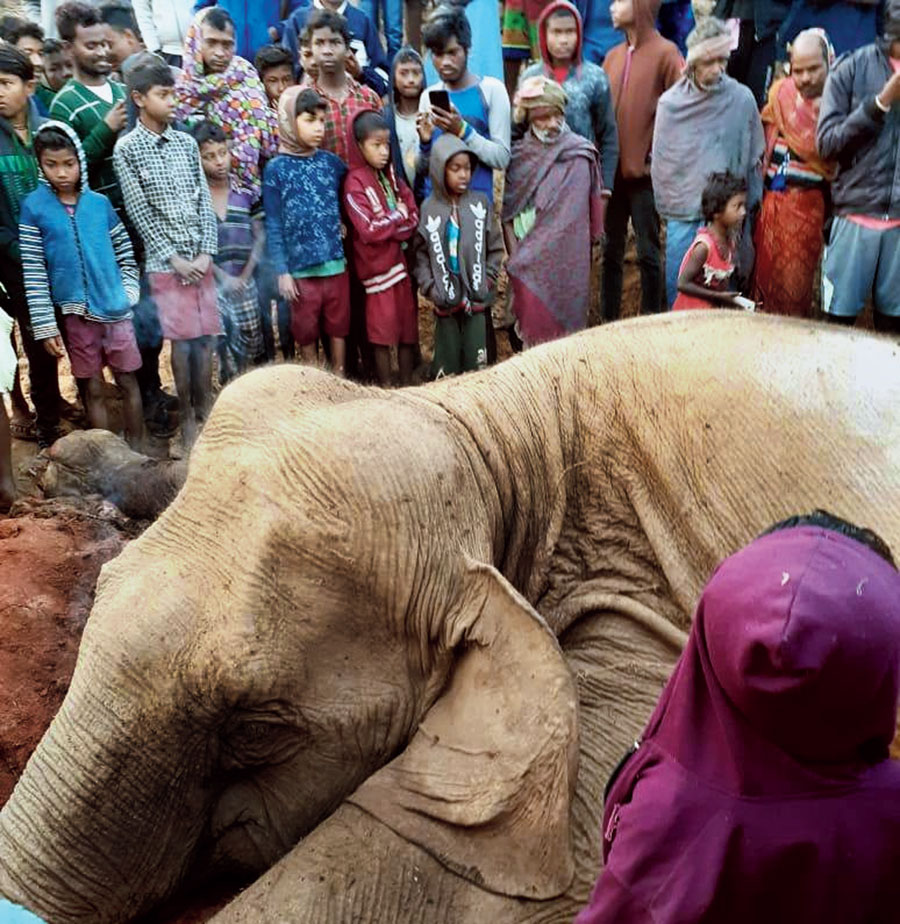 The dead elephant in Chakulia on Friday
Pictures by Animesh Sengupta
---
Jamshedpur
|
Published 28.02.20, 06:48 PM
|
---
A female elephant was fatally injured after a speeding train hit her between Kokpara and Chakulia under Chakulia police station area in Ghatshila sub-division, around 70km from here.
The incident occurred in the small hours of Friday.
A railway official said the Koraput-Howrah Samaleshwari Express was running at a speed of 80kmph around 2.40am when the train hit the jumbo. She was flung 20ft from the tracks.
The elephant succumbed to her injuries within an hour.
Keeping the carcass on the tracks, Jamshedpur divisional forest officer (DFO) Abhishek Kumar shot off a letter to the railways demanding a restricted speed limit to be followed for trains including goods trains between Chakulia and Kokpara, which is part of the elephant corridor.
"We have demanded to the railway authorities to keep the trains' speed on this stretch below 40kmph," DFO Kumar told The Telegraph.
"The Ghatshila sub-division comes under the Project Elephant area. But as we had never asked for a restricted movement of trains through the stretch, we intimated an assistant engineer of the railways posted at Tatanagar about our concern," the DFO added. He pointed out that the railway officer had responded favourably to his missive.
The Jamshedpur DFO said that at the time the mishap took place, two elephants were near the railway tracks. One was crossing the track and the other was a little distance away.
After the mishap the injured jumbo lay near the tracks, but the other one returned to the Chakulia jungle.
A team of forest department officials arrived at the spot and got an autopsy of the carcass done before it was buried.
According to forest officials, the elephant that was killed on Friday had come in a small herd from the Chakulia jungle, close to the Bengal border.
Vijay Kumar, divisional commercial manager (DCM), Chakradharpur railway division, said that they do follow the instruction of a restricted speed limit at various stretches under the division.
"The train drivers of express trains are being given a training on route learning for driving in the Chakradharpur railway division which comes under the Project Elephant area," DCM Kumar said. We will now follow the instructions of the forest department about the restricted speed limit in Kokpara-Chakulia section too."