Hemant Soren slams Centre over dues in mining
The CM had also written to Union coal minister, Niti Aayog and raised it with Amit Shah in Delhi for clearing longstanding dues of Rs 1.36 lakh crore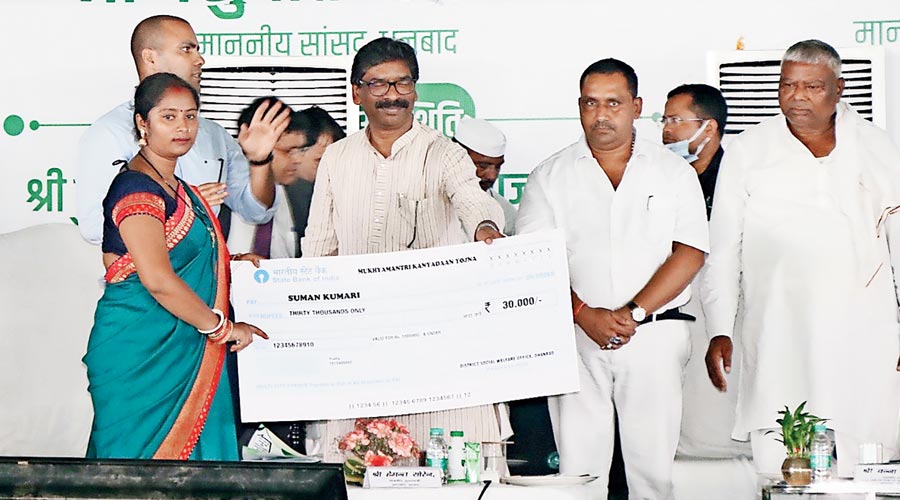 Hemant Soren hands over a cheque to a beneficiary during the programme in Dhanbad on Monday.
Picture by Shabbir Hussain
---
Jamshedpur
|
Published 05.07.22, 04:00 AM
|
---
Jharkhand chief minister Hemant Soren, embroiled in an office-of-profit row with the Election Commission, has blamed the Centre for problems confronting the state especially in the social-development sector.
Addressing a meeting at coal hub of Dhanbad in Jharkhand on Monday, Hemant reiterated the Centre not clearing legitimate dues of Rs 1.36 lakh crore for mining by public sector undertakings (PSUs) in the state as the main reason for problems in mining hubs.
"Coal mining has been happening in Dhanbad for close to 10 decades and most of the mining is done by central government PSUs. However, the PSUs have not done enough for the welfare of the people.
"When we assessed the royalty and other issues we could find that Rs 1.36 lakh crore was pending with the PSUs for coal mining done in different parts of the state. We have been asking our legitimate dues at every forum but have not received any response so far from the Central government. If the amount would have been received we would have carried out social-development projects for the people in mining hubs like Dhanbad," Hemant said.
Hemant had earlier this year written to Union coal minister Pralhad Joshi, Niti Aayog and last month also raised it with Union home minister Amit Shah in Delhi for clearing longstanding dues of Rs 1.36 lakh crore.
"Coal companies are not paying legitimate demand of revenue to the state, resulting in huge dues to the state from these companies, Under the Mineral Concession Rules, 1960, as per which royalty is chargeable for mining in a leased area. In spite of provision in the law and judicial pronouncements made therein, coal companies are not paying royalty on washed coal resulting in huge pending dues," Hemant added.
A large part of coal mining in Jharkhand is done by subsidiaries of Coal India Ltd.
Hemant was also informed about the government addressing the problem of displacement.
"Due to callousness of the earlier government workers have been facing problems and displacement being the major challenge. Our government recovering after Covid phase of lockdown is moving in the direction of resolving these problems in a planned and planned manner," he assured.
Earlier, the chief minister laid the foundation stone of 118 schemes worth Rs 350.86 crore and inaugurated 106 schemes worth Rs 161.28 crore while distributing assets worth Rs 48.911 crore among 18,946 beneficiaries.
Appointment letters were also handed over to 174 people for government jobs and those who had been trained in skill development missions.