Heavy rainfall marks monsoon 'end' in Jharkhand
Putki, on the outskirts of Dhanbad, received the maximum of 309mm rainfall during the 24-hour period while Bokaro got 290mm, Jamtara 244mm and Pakur 219mm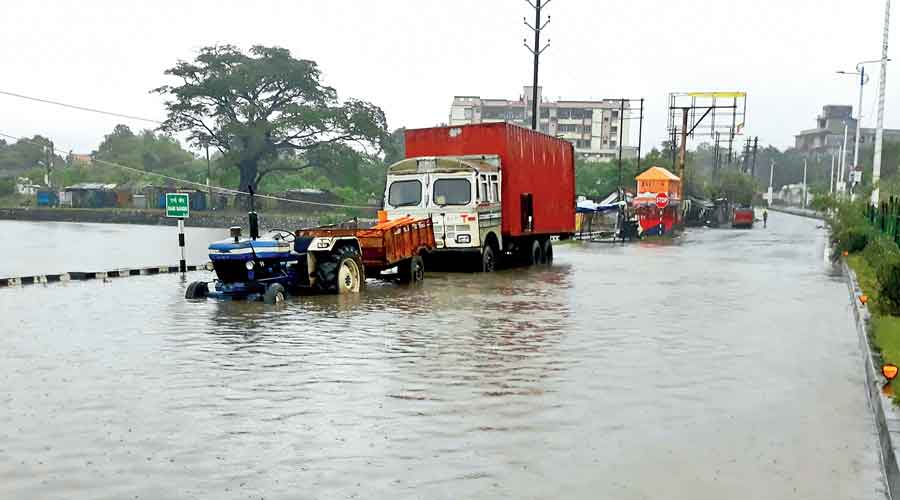 ---
Ranchi
|
Published 01.10.21, 02:12 AM
|
---
The monsoon "officially" ended in Jharkhand on Thursday with the state receiving heavy to very heavy rainfall at some places.
"The monsoon was very active in the state during the past 24 hours till this morning when very heavy rainfall was recorded at many places," Abhishek Anand, in-charge of the Ranchi Meteorological Centre, said on Thursday afternoon.
Putki, on the outskirts of Dhanbad, received the maximum of 309mm rainfall during the 24-hour period while Bokaro got 290mm, Jamtara 244mm and Pakur 219mm, he added.
The monsoon, which officially stretches for four months — June to September — ended on Thursday with the state receiving total rainfall of 1,043.4mm during the period which is just 1 per cent less than the average rainfall of 1,054.7mm, Anand further said, adding that "the departure is normal".
"The low pressure area that caused heavy rainfall, reducing the departure to just -1 per cent from the normal is now lying centred over the north Jharkhand-Bihar border," Anand said.
He said that the state was likely to receive more rain during the next three-four days.
Palamau, Chatra, Hazaribagh and Koderma districts were likely to receive heavy rainfall during the next 24 hours, he further said, indicating that the negligible deficiency of 1 per cent could also be wiped out.
The figures released by the Ranchi Met office on Thursday afternoon showed that the rainfall distribution was not uniform across the state during the four months from June to September.
Some districts like Lohardaga (49 per cent), Jamtara (39 per cent) and Dhanbad (23 per cent) received excess rainfall while some others such as Pakur (-36 per cent), Gumla (-31 per cent), Chatra (-26 per cent) and Godda (-25 per cent) got deficient rainfall.
The current spell of rainfall caused by cyclonic storm Gulab made up the rain gap and brought down the earlier deficit of 5 per cent to one per cent.
If the rain continues till Thursday midnight, the current gap may also not exist, weather officials said.