Hazaribagh link to Google's doodle tribute
Feminist & poet Kamini Roy spent her sunset years in this small town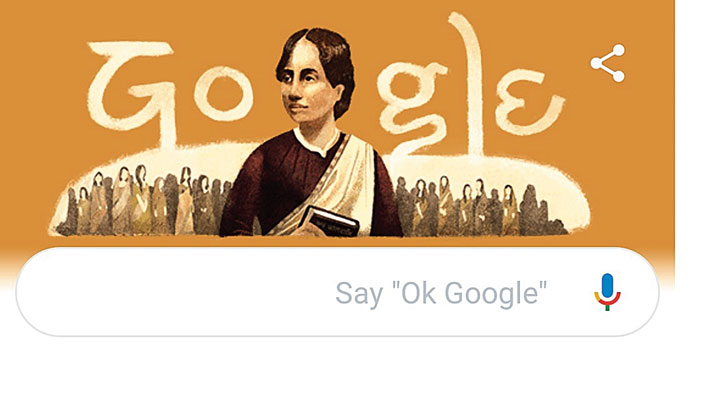 ---
Ranchi
|
Published 12.10.19, 08:06 PM
|
---
On Saturday, when the ubiquitous search engine Google gave a doodle tribute for its Indian users to poet, educator and feminist Kamini Roy on her 155th birth anniversary, few realised her Jharkhand connect.
The pioneer spent her sunset years and died in Hazaribagh, then a part of the combined Bihar-Odisha province, on September 27, 1933, aged 68.
Eighty-six years after her death, hardly anyone in Hazaribagh or with a Hazaribagh connect remembered Roy, though frequent Google users expressed their pleasure at seeing the doodle.
The only exception was Hazaribagh-origin economist Amitabha Mukherjee, who has worked with the United Nations as a consultant and now lives in New Delhi. "I was then a small boy studying in junior classes in St Xavier's School, Hazaribagh, when our Bengali teacher Dharmadas Choudhury would often refer to Kamini Roy," Mukherjee recalled, adding the house she had passed her last days in was located just behind their school.
The house was subsequently bought by the school authorities and annexed to the school compound, Mukherjee said. "It was not in good shape and had to be demolished," he said.
"We were too young to know the importance of Kamini Roy except that she was a great poet of her time as our teacher would respectfully mention," Mukherjee, who is currently the president of Delhi's Bengali Association, said.
Five years older than Mohandas Karamchand Gandhi and three years younger than Rabindranath Tagore, Kamini Roy née Sen was born in a progressive family and educated of Bengal and went on to become the first woman to earn an honours degree in graduation, an educator, and an Indian suffragette who was far ahead of her times.
Born on October 12 in 1864 at Bakerganj in Barishal (now in Bangladesh), Roy, who was educated in Bethune School and Bethune College in Calcutta, earned her honours district in Sanskrit. Her brother Nishit Chandra, a barrister, went on to become the mayor of Calcutta, and her sister Jamini a physician with the royal family of Nepal. She married Kedarnath Roy when she was nearly 30, unheard of at that time, and continued her work for education in women's education and voting rights till her death.
It is not known if Roy had read essays by western feminists such as Mary Wollstonecraft. But her own essays on feminism were razor-sharp. "The male desire to rule is primary, if not the only, stumbling block to women's enlightenment... They are extremely suspicious of women's emancipation. Why? The same old fear –''Lest they become like us'," Roy had written.
Associated with the Bangiya Nari Samaj, Roy campaigned extensively for women's right to vote ahead of and around the same time the suffragette movement was making ripples in the West.
The Bengal Legislative Council granted limited suffrage to women in 1925, allowing Bengali women to exercise their right for the first time in the 1926 Indian general election.
However, generations of Bengalis knew Roy in another avatar, as the poet of Alo-o-Chhaya. Like most writers of her generation, she was influenced by her contemporary, Tagore, and by Sanskrit literature.
Calcutta University honoured her with the Jagattarini Gold Medal.