Kafeel Khan flags child delivery risks, holds free medical camp in Jharkhand
The Ranchi camp was the 94th held across the country in the past three months, since Khan and a like-minded doctor Harjit Singh launched a child-health initiative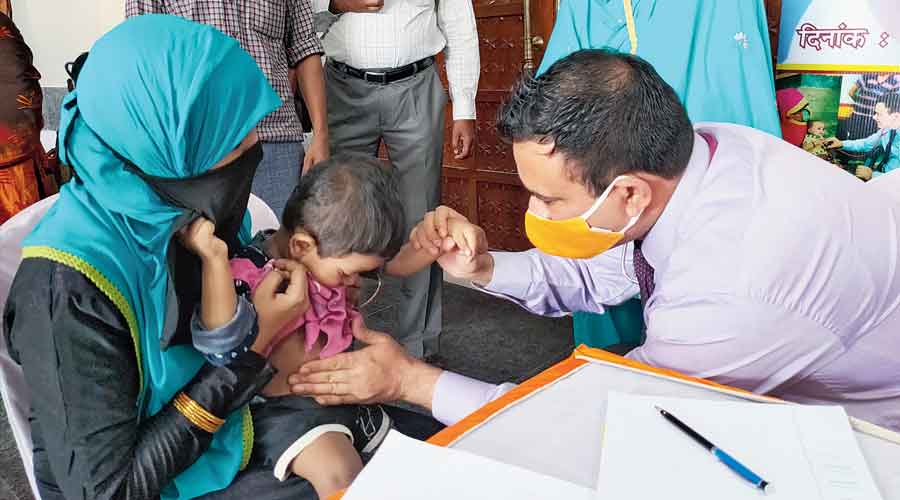 ---
Ranchi
|
Published 16.07.21, 01:19 AM
|
---
Paediatrician Kafeel Khan, a Gorakhpur doctor who was arrested twice by the Uttar Pradesh government and has emerged as a symbol of resistance against State oppression, held a free medical camp for children here on Thursday.
"This is my eighth camp in Jharkhand and I will attend two more — one at Madhupur and another at Godda — this time," Khan told The Telegraph.
The Ranchi camp, held at the Haj House, was the 94th held across the country in the past three months, since Khan and a like-minded doctor Harjit Singh launched a child-health initiative called "Doctors on Road" on April 14, he said.
"We organise these camps in rural and slum areas where they need medical assistance more and also try our best to provide the required medicines," Khan said. He added that they organise the camps with help from the Smile Foundation and also local NGOs that extend logistic support.
"The healthcare system is usually poor in such areas but things have become worse during the pandemic, affecting newborns the maximum," Khan said.
"Earlier, about 70 per cent of the total deliveries would be institutional deliveries. But the percentage dropped drastically during the pandemic when untrained maids handled deliveries at home that created many health problems," he said.
He said some of these deliveries at home may lead to birth asphyxia that may later turn into cerebral palsy.
"There were two such babies among the first 10 I examined here," the child specialist said to strengthen his observation. He said such cases may also happen at rural health centres or small hospitals where a paediatrician may not be immediately available at the time of birth.
Asked about the diseases he found among the children residing in rural areas and slums, Khan said: "Half of our rural children are malnourished and that, in turn, makes them vulnerable."
"Besides, almost half the women in reproductive age group are anaemic which also makes the situation complicated," he added.
"We examine around 300 children on an average and also give them medicines at these camps," Khan said, adding that he is usually joined by other doctors who volunteer at the camps.
"Dr Khan was alone but still attended to about 155 children single-handedly," said Tanweer Ahmad, founder of The Friends of Weaker Sections, a local NGO that helped organise the Ranchi camp.
Khan, who had been accused of the deaths of 70 children from oxygen shortage in August 2017 while serving as an academic doctor at Gorakhpur's BRD Medical College and Hospital, was eventually acquitted of all charges but re-arrested under the National Security Act for his controversial speech against the Citizenship Amendment Act at Aligarh Muslim University early last year.
After seven months in Mathura jail, he was released on September 1, 2020, after Allahabad High Court dropped charges against him terming his arrest "illegal".