Four officials to monitor coronavirus fight in Jharkhand
Health dept asks districts for action plan, urban development dept forms team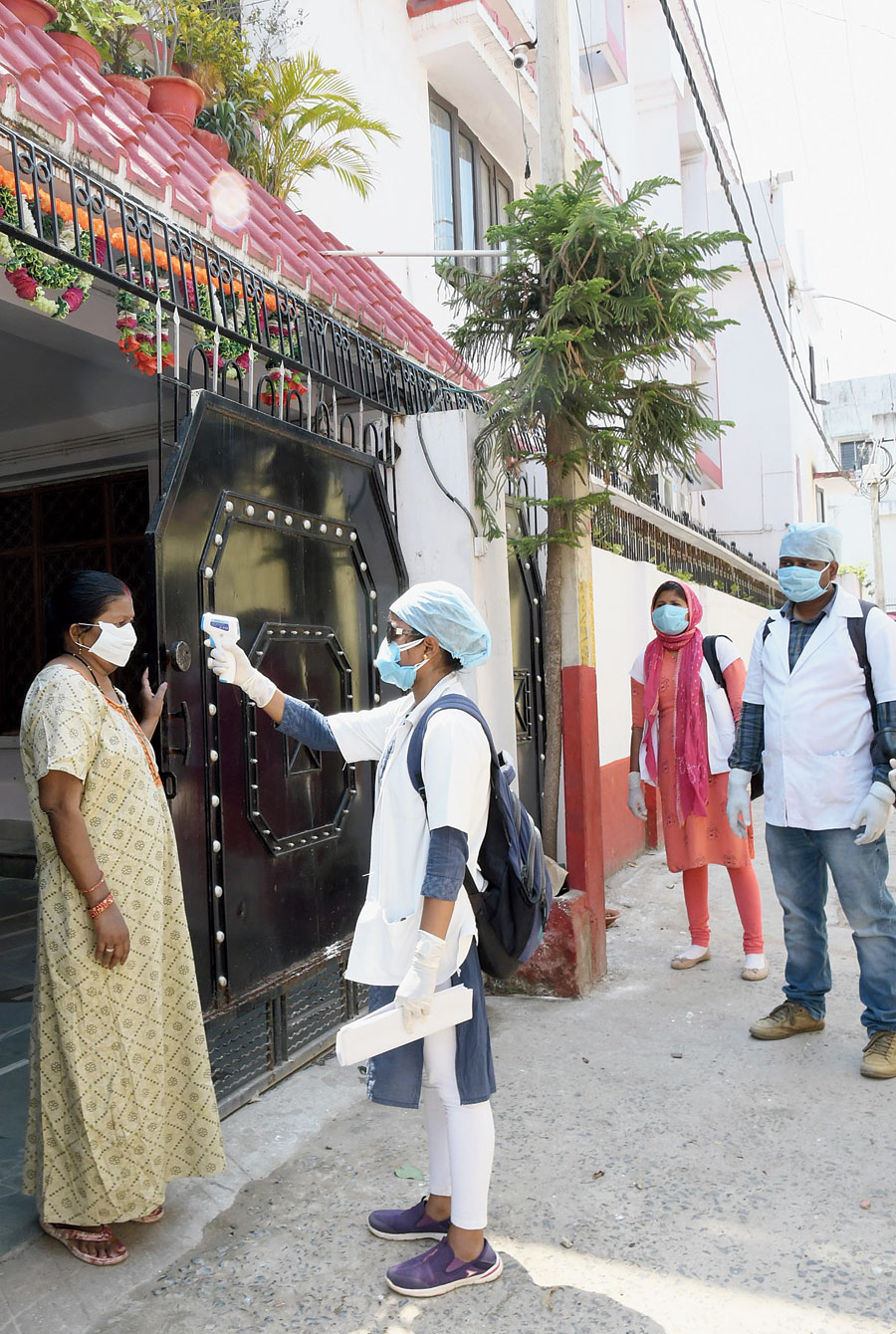 ---
|
Ranchi
|
Published 07.04.20, 06:40 PM
---
The state urban development department on Tuesday formed a four-member team for online monitoring of all the urban local bodies' activities to contain the Covid-19 pandemic and ensuring lockdown in their areas.
The team comprises state urban development authority (SUDA) director Shashi Ranjan, additional secretary urban development A.K. Ratan and joint secretaries Sanjay Bihari Ambasth and Kant Kishore Mishra.
"All the civic bodies have been sending their report daily to highlight steps taken to contain the Covid-19 pandemic and we would like our senior officials to assess the reports online on a daily basis and give suggestion, wherever necessary, on various parameters of containment of the pandemic and also ensure supply of essential goods required for carrying out drives against Covid-19," said state urban development department principal secretary Vinay Kumar Choubey.
"We would like to see the activities taken to ensure success of the lockdown and maintenance of social distancing in crowded areas like vegetable markets, etc," he added.
The urban development and housing department governs eight municipal corporations, two notified area committees (Jamshedpur and Mango), 21 nagar parishads and 19 nagar panchayats.
"Directive has also been issued to all the urban local bodies to ensure cleaning of roadside drains, waste collection, sprinkling of bleaching powder and sanitisation of city areas using specified amount of sodium hypochlorite apart from fogging (for vector-borne diseases) in two shifts, ideally in the morning and the evening," Choubey said. "We would also like to see if the civic bodies are doing it or not. We have asked all the civic workers engaged in field activities to be in full protective gear including masks and gloves."
Directive has also been issued to civic bodies executives to ensure that there is minimum of 1m distance between shops selling essential commodities like food grains, vegetables and fruits in commercial areas, and also to mark out with chalk spots ensuring social distancing where people can stand near shops selling essential goods.
The municipal bodies have been asked to help the district administration in reaching essential goods on the doorstep of residents during the lockdown so that people do not have to come out of their homes. The urban local bodies have also been told to help the district administration in distribution of food for the poor and the homeless residing in urban slums and shelter homes managed by civic bodies.
The civic bodies have been asked to religiously ensure that cleanliness and sanitisation activities are carried out twice daily in the quarantine centres set up in all the 24 districts of the state.
Plan push
The state health department has directed every district to submit an action plan to tackle the pandemic. The department has directed district administrations to furnish information regarding number of quarantine centres along with number of persons placed under quarantine and isolation besides the requirements to tackle the disease.
Districts also have to inform about vulnerable pockets and what new measures are being taken to enforce the lockdown.
"All districts have been asked to furnish information in documented form," state health secretary Nitin Madan Kulkarni said. "Every district may have different issues that we need to understand to manage the crisis. Once we receive the reports from district these will be complied and it will be sent to the central government. It will enable us to know that whether we are working in the right direction, and further logistics we require."