Flags, tees wait for customers
10 days left for the first phase of the 5-phase Assembly election polls in Jharkhand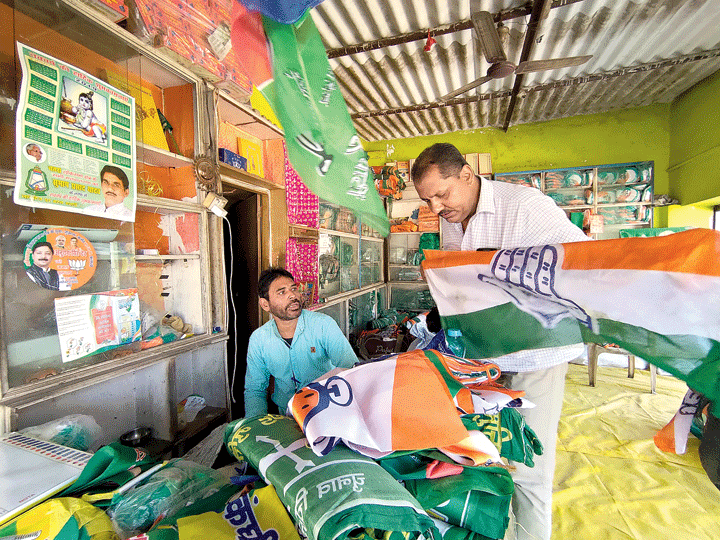 Election merchandise on display at a shop at Harmu Chowk in Ranchi on Monday.
Picture by Manob Chowdhary
---
Ranchi
|
Published 18.11.19, 08:35 PM
|
---
Call it slowdown, call it a late start, but flags, banners, badges, scarves, tees — election merchandise of all shapes and sizes — are yet to fly off the racks.
With only 10 days or so left for the first phase of the five-phase Assembly election polls, the political temperature is shooting in Jharkhand with defections, new friends and foes, drama surrounding announcements of tickets.
But the sale of poll items is yet to pick up even in Ranchi, which along with nearby constituencies, will vote in the third phase on December 12.
On Monday afternoon, only one customer was seen at the shop selling election campaign items of all parties at Harmu Housing Colony, where the state headquarters of the BJP and the Ajsu Party are located and where senior JMM leader Hemant Soren casts his vote.
Owner Ashok Singh said his store was located strategically at a very important place but he was not getting customers. "Though the first phase of election is on November 30, no one so far has turned up for bulk purchase of election materials. We have every item that any political party can need for campaigning, tees, caps, scarves, flags, banners and badges," he said.
Another shop owner at nearby Shiv Dayal Nagar echoed Singh. "So far, we have had queries but not customers. So much is going on (related to elections), but that is not getting reflected in sales. I think this is the impact of the market slowdown," said the shopkeeper who did not want to be named.
Customer Prabhakar, who identified himself as a supporter of a national party, said candidates would get party funds once nominations were over. "Also, prices are reasonable, Rs 2 for a badge, Rs 3 for a cap, Rs 3 to 8 for a flag, Rs 55 for a tee and Rs 60 for a model of an EVM for voter awareness," he said. "I'm sure the market will pick up."
Voter Kishwar Sahu of Argora had a different take. "Say what you will, but banners and posters are dated. Now, campaigning is done on social media, so sale of poll items in cities won't be as high as before. These shops should focus on rural markets."