Fitness freaks, morning walkers protest imposition of entry charge in park
Golf Ground is an immensely popular spot for Dhanbad residents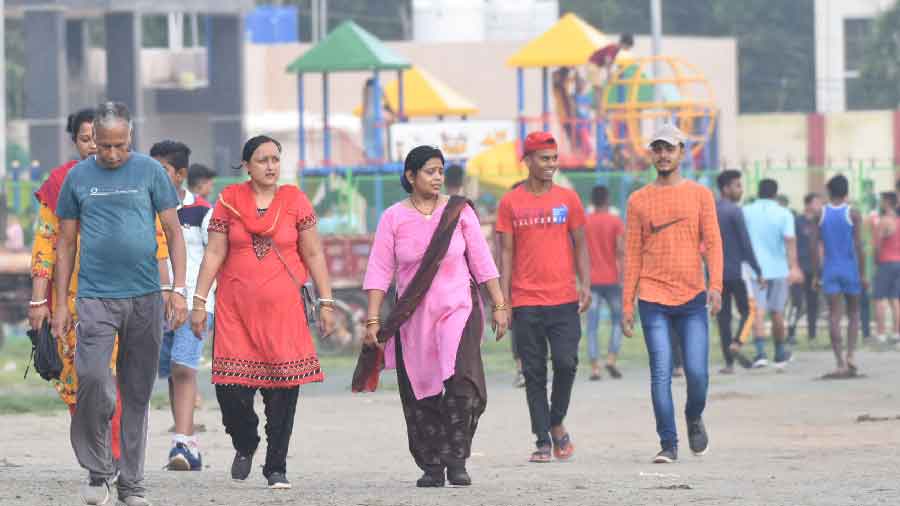 Dhanbad residents on morning stroll
Gautam Dey
---
Dhanbad
|
Published 14.05.22, 08:06 PM
|
---
Coal town fitness freaks, morning walkers and other residents are protesting against the Dhanbad Municipal Corporation decision of imposition of  entry charge in Golf Ground, the newly renovated park situated in the heart of town , equipped with a  host of facilities, including an open gym, a children playing arena, yoga centre, jogging tracks, skating zone, meditation platform etc.
Notably, the park situated in the heart of town which has been renovated at a cost of Rs 5.5 crore by Dhanbad Municipal Corporation has turned out to be the favourite spot for Dhanbad residents to spend the leisure time along with the family.
Though, the entry in park was free ever since it was opened for the common people during last year, DMC has recently imposed an entry charge of Rs 10 for the park to ensure its proper maintenance and at same time also increased the facilities of the park  to ensure the fool proof safety and security by installing 33 CCTV Cameras and high mast lights all around the park and also planning to install a generator in the park.
Talking to the media, Chandrashekhar Munna, a local resident said, "Dhanbad is one of worst polluted towns of the country and DMC has been given the responsibility to decrease the pollution level by 30% under the National Clean Air Programme (NCAP) but  instead of taking initiative in this regard it is also depriving the common residents of the opportunity to breath in fresh air of park by imposing entry charge."
Munna further said that though the DMC has also imposed entry charge on the Bekar Bandh park situated less than 50 meters away from  the Golf Ground four years ago but later on amended its decision on the initiative of then Dhanbad Mayor, Chandrasekhar Agarwal as entry charge was waived off for morning walkers from 4 am to 9 am.
"Similarly the entry charge  imposed in Birsa Munda Park, the lone entertainment park situated around 5 km from the town equipped with the facilities like toy train, vortex, caterpillar, monkey-crawl etc has also been waived off for the morning walkers from 4 am to 9 am" said Munna.
"We would also demand the DMC  to take lessons from the it's previous decision to waive off the entry charge at least for the morning walkers at Golf Ground" said Anand Chaursia another local resident  of Bekar Bandh who is  regular visitor of Golf Ground .