Netaji fan with error coin in pocket
Dhanbad collector also has Subhas Chandra Bose's handwritten letter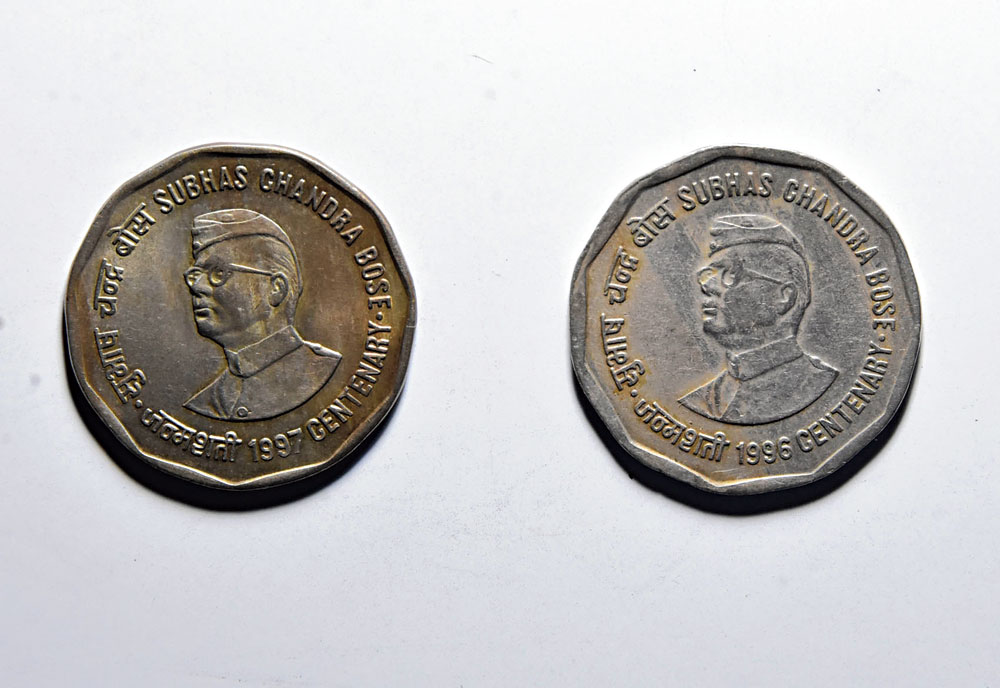 Spot the difference: The Rs 2 coin released by the government on Netaji's birth centenary in 1997 and another released by mistake a year ahead.
Picture by Gautam Dey
---
Dhanbad
|
Published 21.01.19, 06:50 PM
|
---
The birth anniversary of firebrand freedom fighter Netaji Subhas Chandra Bose on Wednesday, January 23, is a time for Dhanbad-based numismatist and philatelist Amrendra Anand, 65, to bring out his rare collection related to his icon.
Anand owns the Rs 2 coin released by the Indian government by mistake a year ahead of Netaji's birth centenary in 1997, as well as a handwritten letter of Netaji, a badge of Azad Hind Fauj and commemorative postage stamps.
Anand, a retired Life Insurance Corporation of India official, said his most prized possession was one of the Rs 2 error coins made of copper and nickel.
"Everyone knows Netaji was born on January 23, 1897. But, Calcutta mint released a Rs 2 commemorative coin on Netaji in 1996 instead of 1997, a year ahead of schedule, with 'Subhas Chandra Bose - Centenary 1996' embossed on it. This mistake was extremely rare, possibly the first in independent India," Anand said.
Anand added that as soon as the government realised its mistake, all such coins were hurriedly withdrawn from circulation. "But as it always happens, a few of these error coins stayed on. These are now some of the most prized coins of the Indian Republic, and a collector's delight. I have one," he grinned.
The story doesn't end here, he said.
"The government again in 1997 released a fresh Rs 2 coin with 'Subhas Chandra Bose - Centenary 1997' embossed on it. I have both the 1996 and 1997 coins," Anand, whose collection includes coins, notes, hukum namas, hundis (deeds), notes with errors, fancy notes, among others, added.
His collection includes Netaji's handwritten letter dated January 10, 1930, three badges of Netaji's Azad Hind Fauj, six postage stamps on Azad Hind Fauj and five on the leader, two special covers of the government and three fundraising coupons of the denominations of Rs 10, Rs 50 and Rs 100 released on Netaji's birth centenary year 1997.