Jharia in Dhanbad district is the most polluted town in the country followed by the Dhanbad district headquarters, according to a report by Greenpeace that was published on Tuesday.
The report, "Airpocalypse IV", the global environmental organisation's fourth report since January 2017 on air pollution in Indian cities/towns, analysed data for the year 2018 from Central Pollution Control Board monitoring stations in 287 cities/towns. It found that 231 of the cities/towns had PM10 — particulate matter measuring 10 micrometre or less — levels much higher than the national prescribed standard of 60 microgram per cubic metre (µg/m3). The World Health Organisation standard is much less, just 20 µg/m3.
Jharia topped the list with PM10 level at 322 µg/m3 — up 295 µg/m3 a year ago — while district headquarters Dhanbad was second with 264 µg/m3.
Jharkhand, though in a better position compared to many other states like Bengal (which has 36 places in the list), has five more cities/towns in the list. Sindri (also in Dhanbad district) is at 60th position with 136 µg/m3, Jamshedpur (129 µg/m3) is 71st, Seraikela-Kharsawan (treated as a single entity) is at 72nd with 128 µg/m3, Ranchi (122 µg/m3) is at 77th and Barajamda in West Singhbhum (75µg/m3) is at 187th.
"Some steps have initiated for reducing pollution level in Jharia and Dhanbad," said Rajeev Sharma, Dhanbad-based member of the state pollution control board. "While (coal major) BCCL has been asked to reduce pollution levels by 30 per cent in the next two years, the board sanctioned Rs 10 crore to Dhanbad Municipal Corporation for buying dust-sucking machines and water sprinklers and installing PM10 analysers."
Manoj Singh, founder of Jharia-based environmental organization Green Life, however, said no action was yet visible on the ground.
Amit Sahu, president of the Federation of Dhanbad Zila Chamber of Commerce and Industry, said: "The rise in the number of open cast mines in the vicinity of Jharia town is leading to rise in pollution levels. Besides affecting the health of over 10 lakh people, it is also affecting business as people are avoiding shopping in Jharia."
Former councillor of Ward Number 37 of Jharia Anup Sao said: "We have been raising the issue time and again with the BCCL authorities and will again carry out agitation to demand some concrete steps to improve the environmental condition of Dhanbad."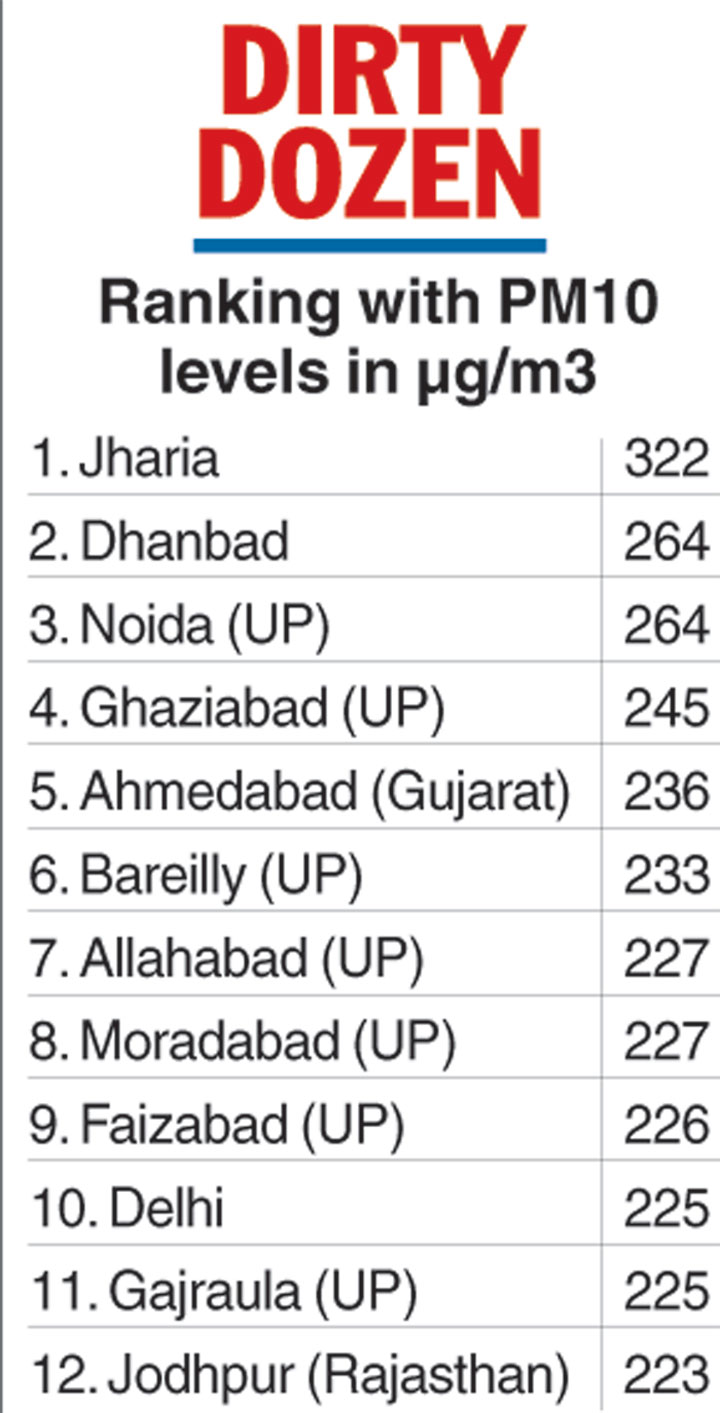 The Telegraph
The Greenpeace report said Lunglei in Mizoram is the least polluted, followed by Dawki in Meghalaya.
The report took PM10 as the yardstick and not PM2.5 (matter even smaller that penetrate deep into the lungs) because most of the cities/towns reviewed didn't have data relating to PM2.5.
Both PM10 and PM2.5 are considered major air pollutants implicated in heart and lung diseases, acute respiratory infections, and even some cancers.
Last October, researchers from South Korea had reported preliminary findings that suggest that exposure to PM10 or PM2.5 may also be linked to hair loss.
Last year, the Union government announced the first ever national clean air programme (NCAP) aimed at reducing hazardous pollution level across cities. The Union ministry of environment and forest included 102 non-attainment cities (with PM10 levels beyond 60 µg/m3) under its NCAP programme, the Greenpeace report pointed out, adding all such cities should have been included.
"It's worrying to see that about 80 per cent of those cities and towns have PM10 level exceeding 60 µg/m3," said Avinash Chanchal, Greenpeace senior campaigner in India.
The non-attainment cities were also required to submit action plans for reducing pollution level by 20 to 30 per cent by 2024. Though many cities/towns submitted such action plans and those were also accepted for implementation, those didn't have pollution reduction targets, the report pointed out.
"Almost none of the action plans till now has a definite overall percentage reduction target for 2024," the report said, adding that those didn't have any interim targets either.
"To make the NCAP a truly national programme we have to include all polluted cities/towns, with specific pollution and emission reduction targets within a time frame," Chanchal said.
The air quality in most of the cities will not remain breathable even if the pollution level is reduced by 30 per cent by 2024, the report warned, adding that city-specific targets for reduction of pollution levels should be fixed and pursued.
"Besides, such action plans lack a regional-level approach," Chanchal said, adding that the source apportionment study would not be effective if sources of pollution in the vicinity or region beyond the city limits are ignored.
The report also outlined some steps to be taken by citizens. They should support rooftop solar or other renewable energy solutions, use energy-efficient appliances, and encourage use of public transport or cycling or walking.