Elderly couple's park trauma
Elderly couple alleges they were abused and assaulted for having complained to RMC about poor maintenance of park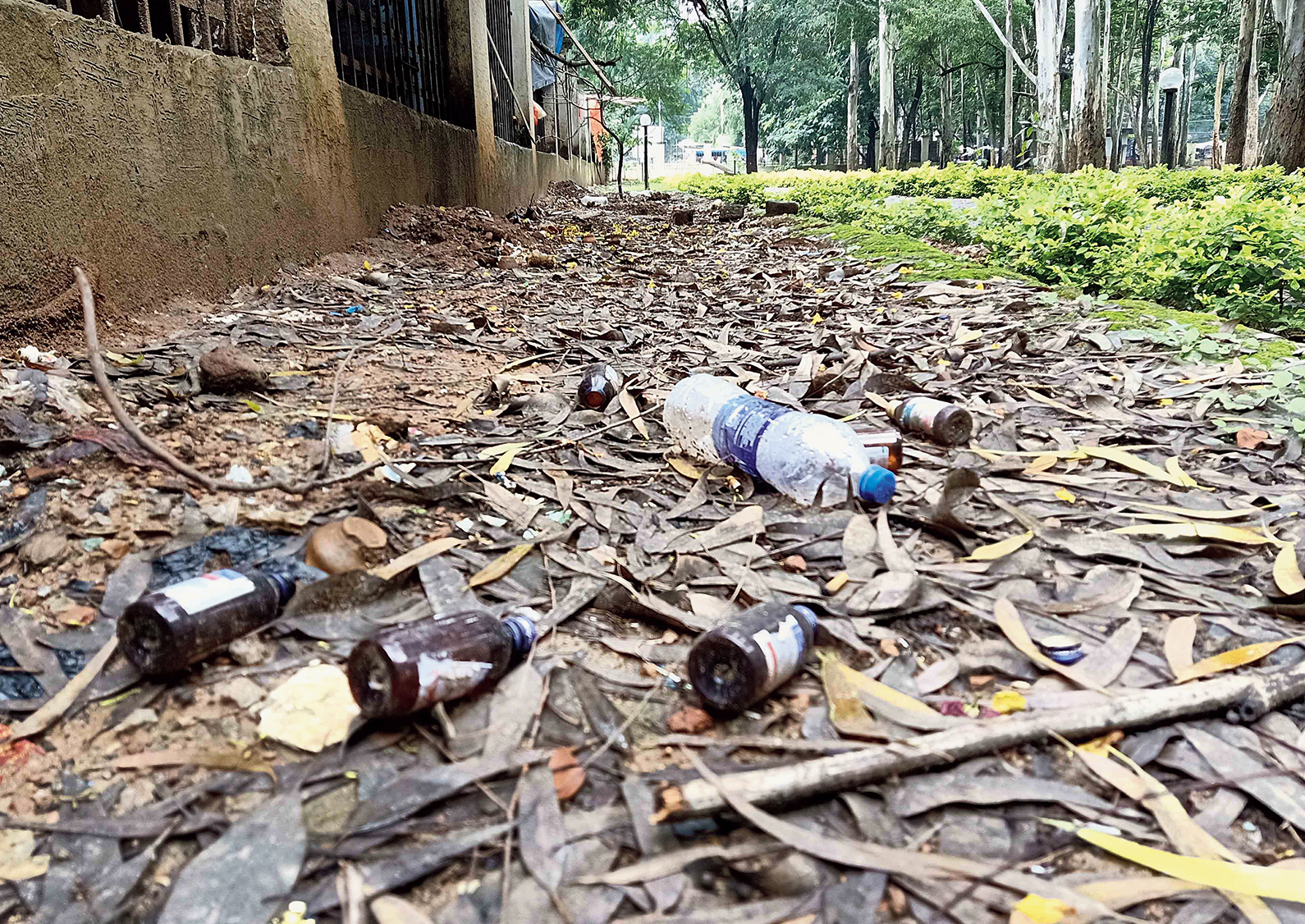 Beer bottles dumped at the children's park in Morabadi, Ranchi, on Monday.
Picture by Manob Chowdhary
---
Ranchi
|
Published 26.08.19, 07:30 PM
|
---
An elderly couple have reached out to the chief minister after their complaint against a contractor, whose men prevented them from using the park and then assaulted them, was ignored by police and Ranchi Municipal Corporation.
Monjula S. Sooresh and her husband P. Sooresh Ramdas, who live in Bariatu, filed an FIR at Lalpur police station on August 21, the day they alleged they were abused and assaulted by the contractor's men for having complained to RMC about poor maintenance of the children's park at Morabadi.
"My husband and I visit the park in the morning when entry is free. The park is in very poor condition with filth all around. The public toilets stink," Monjula told this correspondent.
She also claimed that a restaurant had been set up in the park alongside small huts that have been built there. Also, the pathway for walkers was damaged as were several equipments of the open air gym.
"I have written to Ranchi mayor Asha Lakra, deputy mayor Sanjeev Vijayvargiya and municipal commissioner Manoj Kumar, requesting them that the problems plaguing the park be addressed. This angered the contractor whose men assaulted us," Monjula, who is a consultant on financial fraud, said.
On the events of August 21, Monjula said about a dozen of the contractor's men surrounded them the moment entered they the park in the morning to do yoga.
"They kept abusing us and one of them grabbed my T-shirt and pulled me violently. My husband called the police to rescue us. After that they ran away. Later, I lodged a written complaint at the Lalpur police station against the contractor named as Ayush," she said.
Monjula alleged the contractor claimed exclusive rights over the park saying that the RMC had sold it to him. She said she filed an online complaint with CM Jan Sambad on Sunday since neither RMC nor police took any action. "Now they are threatening me to withdraw the FIR," she alleged.
Deputy mayor Vijayvargiya said the contractor had no right to prevent anyone from entering the park. "RMC reserves the right to set terms and conditions of entry and not the contractor. We are looking into the matter and action will be taken," he said.