Drugs seized from steel city medicine shop
Owner of shop in Mango arrested after police act on tip-off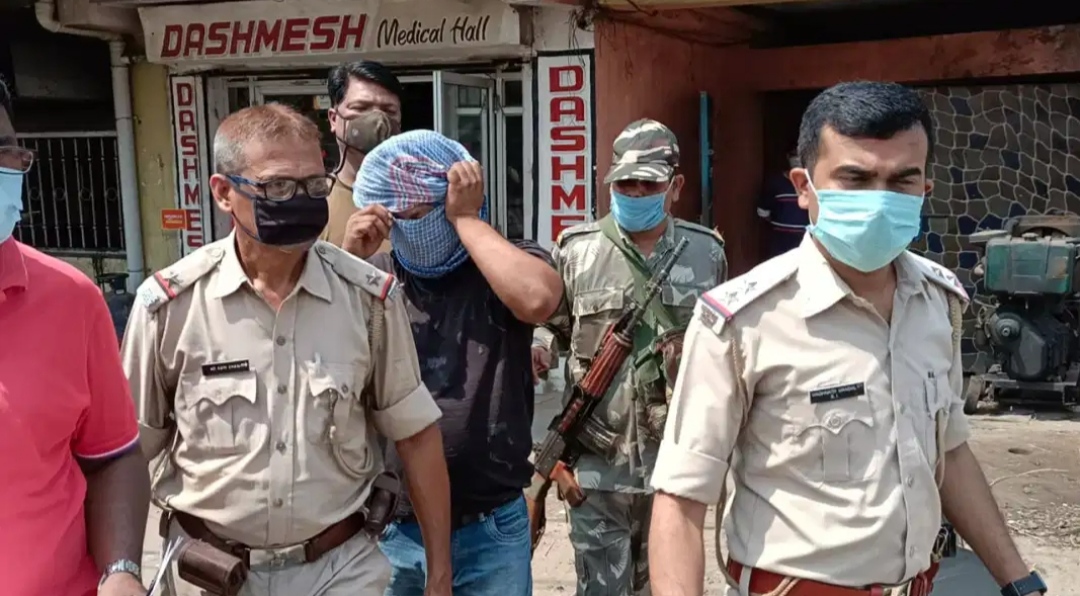 Owner of the medical store (face covered) after being arrested by police on Dimna Road in Mango on Monday.
Animesh Sengupta
---
Jamshedpur
|
Published 22.03.21, 08:29 PM
|
---
A team of drug inspectors and police on Monday recovered huge quantity of narcotic drugs from a medical store on Dimna Road under Ulidih thana area in Mango. 
The raid took place following a tip off from a drug-peddler.
After the recovery of the stock of drugs, the police arrested the owner of the medical store while the team of drug inspectors sealed the medical store. 
Revealing about the breakthrough, Ulidih police station OC Meghnad Mandal said a youth named Mohammed Afzal had been nabbed with a consignment of various narcotic drugs at Sitaramdera bus terminus on Sunday evening. 
Mandal said following interrogation of Afzal who was a carrier, the police could know that the drugs like Nitrosun-10, which is supposed to be sold on the prescription of a doctor only, is being sold clindestinely to the drug-addicts at a premium. 
"On the basis of the information gathered from Afzal, the superintendent of police (City) Subhash Chandra Jat instructed the police and the drug inspection office to carry out a joint raid at the medical stores where such restricted drugs are being sold freely. We raided one of the medical stores, Dasmes Medical in Ulidih and recovered a huge stock of Nitrosun-10," said Mandal while talking to The Telegraph Online. 
The OC said the medical shop owner, Ankit Kumar, was arrested as he could not produce valid papers against the stock of the seized drugs. 
Drug inspector Jaya Kumari, who was accompanied by two other drug inspectors Kunj Behari Chaudhury and Rajib Ekka, said they seized 10,000 strips of Nitrosun-10 from Dasmes Medical store. 
"We have information that the owner of Dasmes Medical store used to sell one tablet of Nitrosun-10 for Rs 25 whereas one strip containing 10 tablets costs Rs 47 only, " Jaya Kumari said while talking to this website. 
The drug inspector said Nitrosun-10 is a highly-intoxicating drug and promotes criminal activity. 
The drug inspector said they will continue the raid against narcotic drugs being illegally sold in the medical stores.