Murmu underlines sustainable mining
Mining damages the environment and also disturbs the communities living in and around the zones: Droupadi Murmu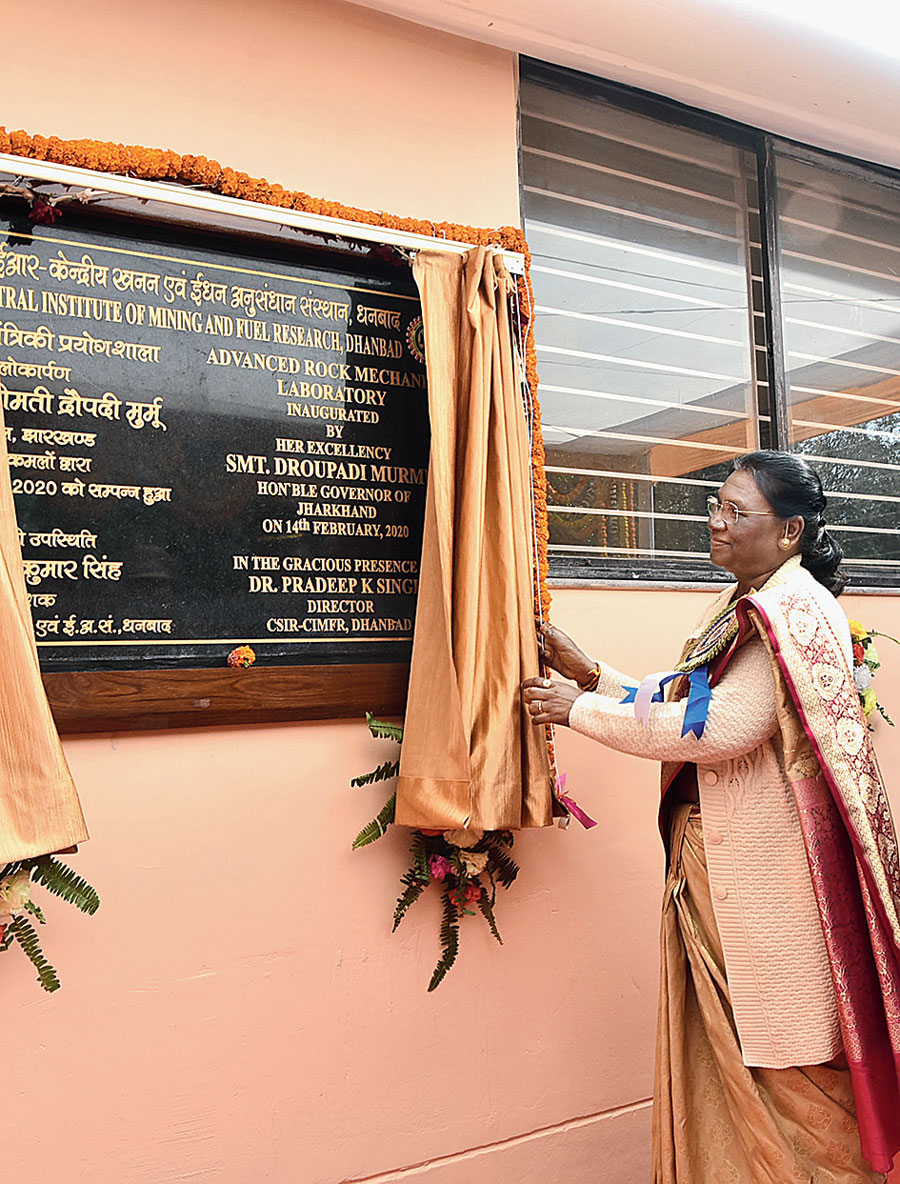 ---
|
Dhanbad
|
Published 14.02.20, 08:27 PM
---
The mining industry must be sensitive to damage to the environment and communities, specially tribals, that live in mining zones, governor Droupadi Murmu said on Friday.
She was speaking as the chief guest during the daylong national conference on Advances in Mining Technology organised by the Central Institute of Mining and Fuel Research (CIMFR), the premiere laboratory of the Council of Scientific Industrial Research (CSIR), in association with Institution of Engineers.
"Mining damages the environment and also disturbs the communities living in and around the zones," Murmu said, adding that mining companies and the Jharkhand government had evolved programmes and projects that addresses such concerns
"We need to be very sensitive to the environmental damages to make mining sustainable," she said.
She said the need of hour was to develop new technologies and adopt such mining practices which conserve the environment while continuing developmental activities.
"Jharkhand has made several projects in these areas but it still has immense potential for further development," Murmu said. "In addition, the people affected by mining activity, mostly tribals, in Jharkhand also need to be taken care of. During my four than four-year tenure as governor a large number of displaced tribal groups' petitioners met me. Tribals are the sons of the soil. They are at risk of being ignored while advanced technologies required for national development.
"We should keep their interest in mind and allow them to join in the developmental processes," she added. "The need of the hour for the mining sector is to produce clean energy and development of new technologies covering mine to market paving way for best utilisation of natural resources. Technological advancement and emerging mining methods are essential to ensure economical, safer and environment-friendly mining practices."
L.S. Shekhawat, director (operations) of Hindustan Zinc Limited, who the guest of honour, threw light on the adoption of new technologies to increase coal production.
"The world is passing through a global recession and all sectors are affected by it," he said.
He lauded the efforts of CIMFR in carrying out research on underground mining.
Delegates of different institutions and companies, including IIT Kharagpur, IIT (BHU), NITK Surathkal, Reliance, Steel Authority of India Limited, Odisha Mining Corporation, National Aluminum Company Limited and MECON Ltd, took part in the conference.