Doctor couple treat Covid patients to encourage other healthcare workers
The Singhs make Bokaro General Hospital self-reliant in conducting swab tests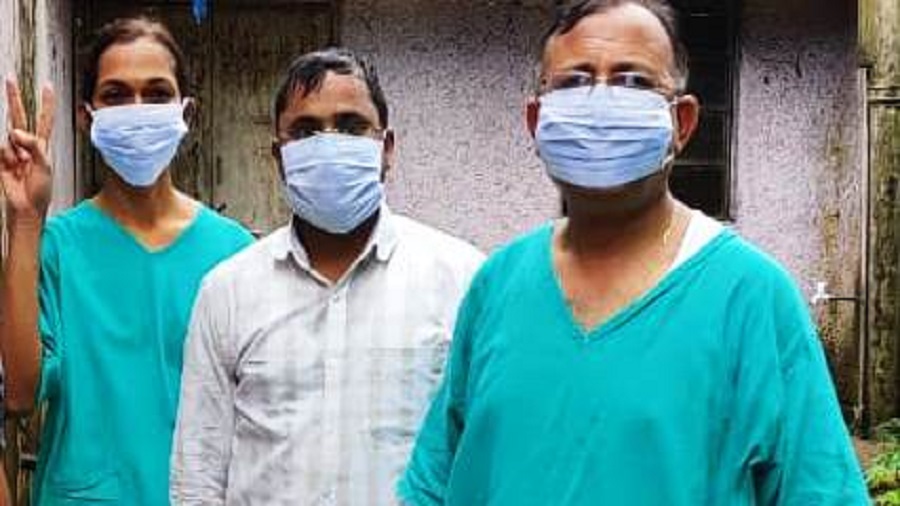 ---
|
Bokaro
|
Published 06.08.20, 07:18 PM
---
A doctor couple in their late 50s came forward to help Covid-19 positive patients, smoothening swab collection in the hospital since Thursday, as fear gripped healthcare workers in Bokaro General Hospital (BGH) after six doctors tested positive for the coronavirus recently.
The couple, who are heads of their units, stepped in when others refused.
BGH head Dr AK Singh on Wednesday and collected swabs of patients who are waiting for tests in the Covid CCU for the past two days. His wife, Roopam Singh, head of Gynaecology department, did a caesarean operation of a pregnant woman who was Covid positive.
Health workers who collect swabs in the district health department who collect swabs have been on strike for the past two days.
Not getting help from the health department, and sensing the hesitation of the staff, the Singhs decided to collect swabs on their own and send it for tests on the newly-installed Trunenat machine.

A doctor at the hospital said that Dr Singh, who was closely monitoring the situation, found that the delay in testing was not only worrying patients, but was also causing a shortage of beds for patients in need.
"Dr Singh called microbiologist Dr Varsha, Dr Brajesh Patel and Covid ward-in-charge Dr Rakesh Gautam, and entered the Covid CCU for swab collection in PPE overalls. Dr Varsha gave on-the-spot swab collection training to Singh and they collected samples of all the patients who had been waiting there."
The BGH, a unit of BSL under SAIL, has to depend upon health workers of the district health department for swab collection.
This incident has made BGH self-dependent in swab collection too.

Dr Singh, whose act of collecting swabs of patients has encouraged other doctors, nurses and health workers in BGH, is an executive director (ED) rank officer in SAIL.

In an incident in late June, when a 24-year-old pregnant woman was admitted to the Sadar Hospital after she tested positive, doctors and staff fled after leaving her in hospital. Following this, she was sent to RIMS, Ranchi.

Unlike the doctors at Sadar hospital, Dr Roopam Singh from BGH turned down the suggestion to refer to her elsewhere and convinced her staff to take the situation as a challenge.
Instead, she encouraged her team to administer her proper treatment, in coordination with infection control committee chairman Dr. Aninda Mandal
"Following protocols, a separate Covid operation theatre was formed in which surgery was performed and the patient gave birth. After being hospitalized for four days, both the woman and her baby tested negative and were released on Wednesday," said Dr Gautam.

Around 85 Covid positive patients have been cured and released from Covid Ward of BGH.
The woman was the first Covid positive patient to deliver a baby in the district.
Before leaving, she and her husband paid special thanks to Dr Roopam and her team of doctors, who encouraged them and took up the caesarean operation fearlessly.
"My child is Covid negative," her husband said, proudly.