Dirty-air finger at Dhanbad, green loss
According to the EPIC report, pollution will cut short the lives of Dhanbad residents by 4.7 years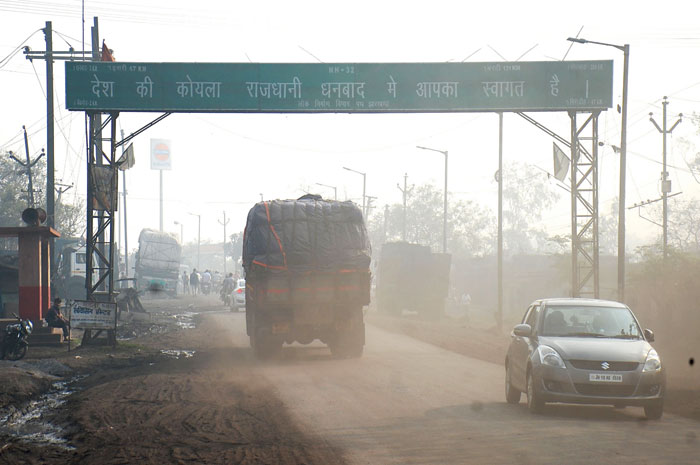 Every breath you take: A coal-laden truck leaves a dusty trail in Dhanbad on Friday
Picture by Gautam Dey
---
Dhanbad
|
Published 01.11.19, 07:37 PM
|
---
The analysis of air quality life index by Energy Policy Institute at University of Chicago (EPIC), which revealed that the pollution levels in Jharkhand could reduce the lifespan of its residents by 4.4 years, has swivelled the spotlight back on Dhanbad where the quality of air is worst in the state.
According to the EPIC report published on Wednesday, pollution will cut short the lives of Dhanbad residents by 4.7 years.
According to a Green Peace India report of 2017 released on January 29 this year, Jharia was the most polluted town of India among 313 towns and cities with PM10 levels at 295 microgram per cubic metre. Dhanbad, with PM10 levels at 238 microgram per cubic metre, was the ninth most polluted town, while Sindri, with PM10 levels of 158 microgram per cubic metre, was ranked 37.
PM10, or particulate matter 10 micrometres or less in diameter, is extremely dangerous for humans.
Residents and environment activists of Dhanbad put the blame on Bharat Coking Coal Limited (BCCL) and the cutting down of around 32,000 trees for road widening projects.
Notwithstanding BCCL's claims regarding the measures undertaken by it to improve the air quality in Dhanbad, environmentalists said that nothing has changed on the ground.
They claimed that BCCL has not implemented any of the steps suggested by the Jharkhand State Pollution Control Board (JSPCB) during its last meeting on Dhanbad's pollution held in Ranchi on June 11 this year.
The suggestions of the pollution watchdog included installation of six sprinklers in residential areas, planting of trees in 50 hectares of land and procurement of mechanised road sweepers for dust sucking on roads.
"There has been no improvement in the situation since the meeting on June 11," Jharia-based environmentalist Manoj Singh, who had taken part in the JSPCB meeting, said.
"In fact, I feel the situation has taken a turn for the worse despite the fact that clear-cut instructions were given to BCCL to reduce the pollution levels by 30 per cent within two years. The Centre has also provided funds under the National Clean Air Programme, a time-bound national-level strategy to reduce air pollution within five years."
Environment activist Abhishek Singh, who was in the team that met general manager of Bastacola area of BCCL Soumen Chatterjee on July 4 to lodge their protest over the alarming levels of pollution in Jharia, said the tall promises made by the coal giant remained unfulfilled.
Singh said Chatterjee had promised to undertake a tree planting drive on mines overburden and sprinkling of water in areas surrounding the mines, but nothing fruitful happened.
"It seems that we will have to hit the roads and stop vehicles transporting coal. We can't lose our lives because of BCCL's irresponsible behaviour," Singh added.
According to Anup Sao, former councillor of Ward 37 of Jharia, private companies to which the BCCL has outsourced its mining and transportation operations don't pay heed to the PSU's instructions.
Rajiv Sharma, a JSPCB member based in Jharia and also the general secretary of Jharkhand Industries and Trade Association, said: "We will raise the issue of BCCL's inaction in JSPCB board meeting because the pollution is taking a toll on our lives."
Regional officer of JSPCB in Dhanbad, Ram Narayan Chaudhary, said they had written to the BCCL authorities several times about the delay in taking action.
EVR Raju, general manager (environment) of BCCL, said: "We had submitted a detailed action plant to JSPCB about the steps planned by BCCL to mitigate pollution last month. We have also initiated tree planting on around 5 acres in Bastacola and Block II area and are in the process of procuring three mechanised dust sweepers and 12 mobile mist sprinklers to be used in residential areas. Tenders for the procurement of over 40 dust analysers have also been finalised. Things will start changing within 2-3 months."
On the felling of 32,000 trees in Dhanbad in the last two years, district forest officer Vimal Lakra said they were in talks with the road construction department and State Highways Authority of Jharkhand to plant saplings in lieu of the trees that have been cut. However, activists say saplings can't replace trees.