Dharnas at Dhanbad collieries against commercial mining and new labour laws
These protests form part of a two-day nationwide programme called by the joint front of central trade unions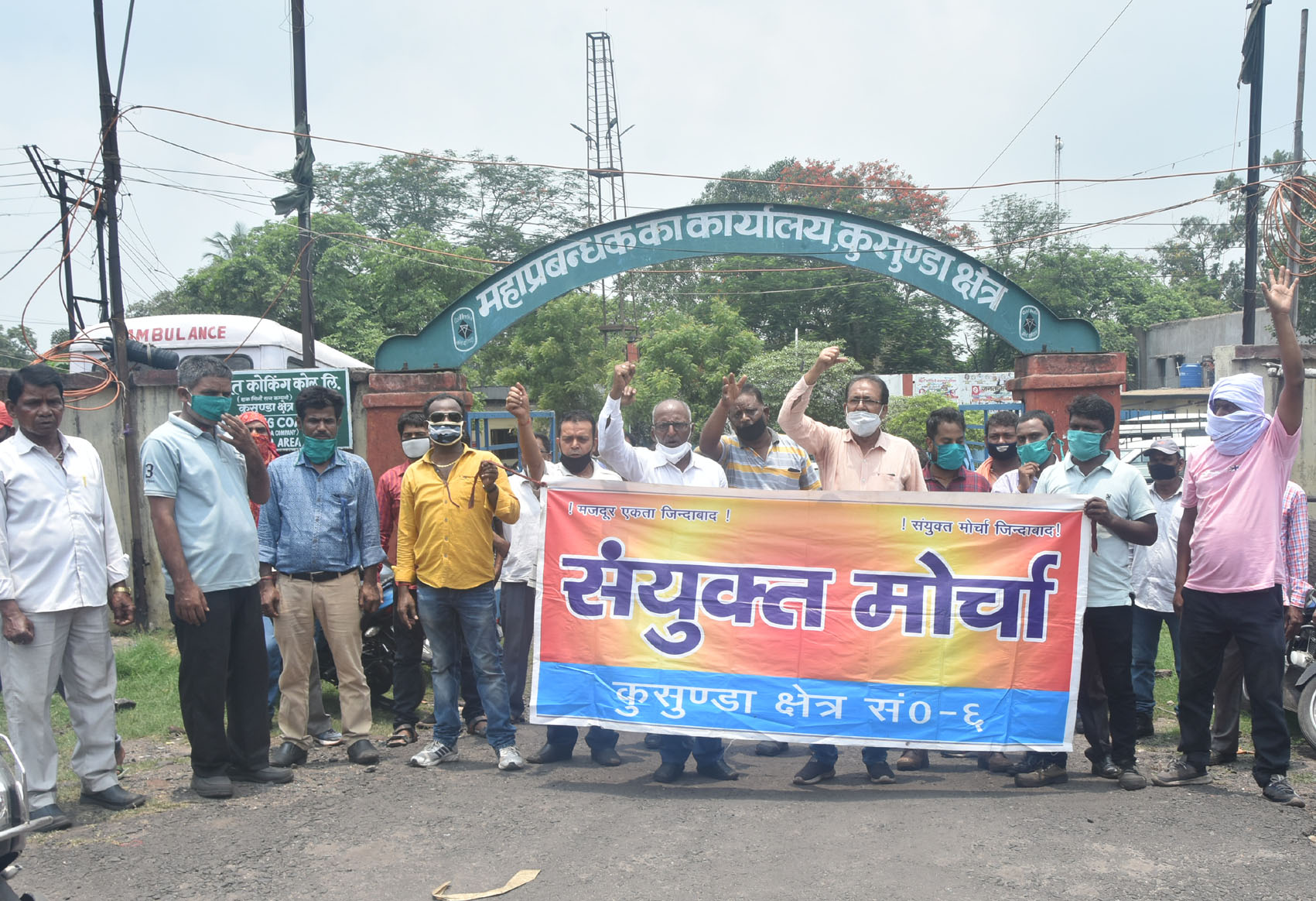 Trade union leaders and coal mine workers under the banner of Dhanbad Colliery Karamchari Sangh staging a dharna in front of the GM's office at Kusunda Area IV of BCCL in Dhanbad on Wednesday.
Gautam Dey
---
Dhanbad
|
Published 10.06.20, 03:01 PM
|
---
Several dharnas and demonstrations were organised at different collieries of Coal India subsidiary Bharat Coking Coal Limited in Dhanbad on Wednesday. These form part of the two-day protest called by central trade unions, including Indian National Trade Union Congress (INTUC), Central Industrial Trade Union (CITU), and All India Trade Union Congress (AITUC).
The protest has been organised to oppose the central government nod for commercial mining, amendment of labour laws, and plans to carry out separation of Central Mine Planning and Design India Ltd from Coal India limited.
The demonstrations and dharnas, most of which began early morning, were carried out observing all social distancing norms with people also wearing masks. The production in collieries, however, was not at all affected due to the protests.
Talking to The Telegraph Online, AK Jha, state general secretary of Rashtriya Colliery Mazdoor Sangh, a trade union affiliated to INTUC, said, "Our protest was against the central government ploy to sell the mines to capitalist forces in the garb of a decision to allow commercial mining which will lead to blatant violation of environment norms and exploitation of workers".
"The move is intended at helping the capitalist forces which are always the favoured lot of the BJP-led Central Government" alleged Jha, adding that members of different unions under the banner of joint front of trade unions as well as general colliery workers carried out peaceful protests during the first day of their two day programme.Effigies will be burnt on Thursday at different collieries across the country.
"We are equally opposed to the amendment of labour laws, making them more favourable for employers'' said Jha. He noted that the "amendments are being carried out without any consultation with trade unions, clearly exhibiting the dictatorial attitude of the government."
Hari Prasad Pappu, secretary of Bihar Colliery Kamgar Union (BCKU) affiliated to CITU was present during a demonstration carried out by the joint front of trade unions at Kenduadih area of BCCL. "We are totally against commercial mining and will not allow it to happen at any cost. It will only ensure allotment of coal blocks to private miners who will launch reckless mining for sake of profit without any consideration of welfare of the labourers", he said.