Dhanbad-Sindri train back on track after a year
The lifeline for fertilizer town residents will now run once a day, fare hiked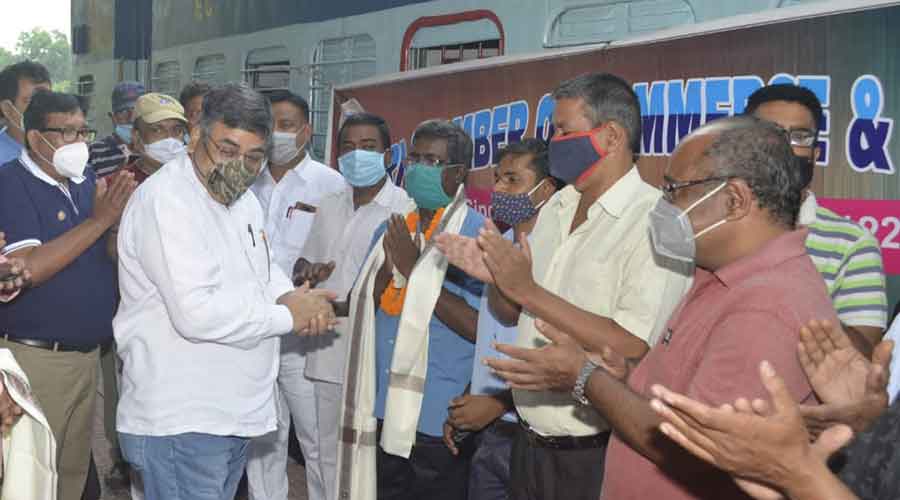 ---
Dhanbad
|
Published 01.08.21, 07:25 PM
|
---
The Dhanbad-Sindri passenger train, which served as a lifeline for Sindri residents, resumed operations from Dhanbad Railway station on Sunday morning after remaining suspended for 17 months. 
Sindri residents gathered at the station to welcome the train that reached the station at around 8.10 am.
The gathering of around 100 persons of retired employees of fertilizer factory, traders and different social workers also offered shawl, water bottles and masks to the train staff members, including the driver, guard and other station officials.
Dipak Kumar Deepu, President of Sindri Chamber of Commerce who was leading the gathering said, "The resumption of train services has solved the woes of more than 1 lakh residents of the town who were compelled to make extravagant and uncomfortable journey to district in auto rickshaw due to lack of train services."
"A delegation of Sindri Chamber of Commerce would soon meet, Ashish Bansal, Divisional Railway Manager of Dhanbad requesting him to restore all the three ferries of the train as per pre lockdown schedule," said Deepu.
The passenger train service was launched in October 1982. It used to make three journeys from Sindri at 8.30am, 1.40pm and 7.15pm till the pre-lockdown period before its suspension. After its resumption from Sunday, a special train has been allowed from Sindri at 8.40am.
The fare, fixed at Rs 10 per passenger before its suspension, has also been increased three times to Rs 30 per passenger.
D.N. Sindri a retired employee of Fertilizer factory of Sindri said, "We were facing a lot of difficulty due to suspension of passenger train as no regular bus service for Dhanbad also and we were compelled to make break journeys in autorickshaw to Dhanbad who used to charge exorbitant fare ranging up to Rs 80 per passenger taking advantage of situation."
"We raised the issue several times before the district administration officials and railway authorities and also met Lalit Chandra Trivedi, general manager of East Central Railway, Hajipur during his Dhanbad trip on February 17 demanding restoration of passenger train service and today feel quite relaxed as railways restored the train," further said Singh.
"Large number of students, office goers, daily wage earners were facing the most difficult time since the suspension of train service and in jubilant mood following the restoration of train services," said Singh.