Dhanbad area chokes on smoke from BCCL mine fire
Rain aggravates situation for 200 residents who threaten dharna if permanent measures aren't taken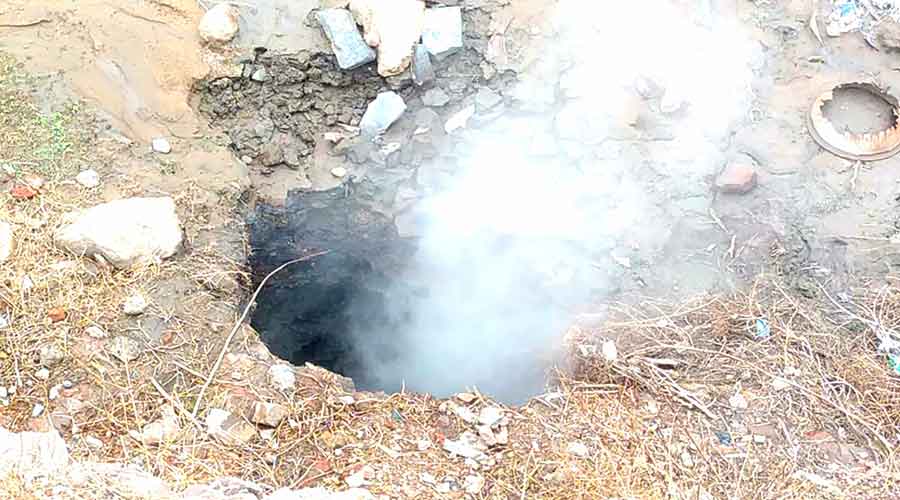 ---
|
Dhanbad
|
Published 09.05.21, 07:31 PM
---
Huge amount of smoke and gas after rainfall on Sunday morning started rising out of the crater of an underground fire of COCP Colliery of BCCL's Bhowra area, affecting around 200 families of the Idgah locality.
A temporary barricade has been put up around the area after local residents informed the BCCL management.
"We woke up this morning inhaling and choking on gas and went to the adjoining bushy area to find huge amount of gas and smoke emanating out of a crater that had developed last year," said Khushid Alam, central secretary of Bihar Janta Khan Mazdoor Sangh, affiliated to Hind Mazdoor Sabha.
"Though minor gas emission is common in the area but with the regular rains since the last four to five days, the situation has aggravated and many people in our locality have started feeling itchy sensation in the eyes," said Alam.
"No step has so far been taken by BCCL authorities to fill up the crater and control the smoke and gas emission despite the fact that over 200 families live in the area and their health is likely to have adverse effects due to the emission," said Alam.
Divulging details about the crisis, Alam said, "Though the crater has been lying there since the last several years but the dumping of mines overburden carried out by the BCCL management during the last year worsened the situation as the overburden consisted of fiery coal."
"We demand immediate steps from the BCCL management, otherwise we will be compelled to stage a dharna," he said.
Another resident of the locality requesting anonymity said, "Stop gap arrangement adopted by the coal company, BCCL and the private mining company towards fire fighting is primarily responsible for the situation. If proper steps were initiated during the last year itself, the situation would not have worsened this year."