Demand for Chinese fruits & raisins dries up
Coronavirus spooks steel city, two residents back from China test negative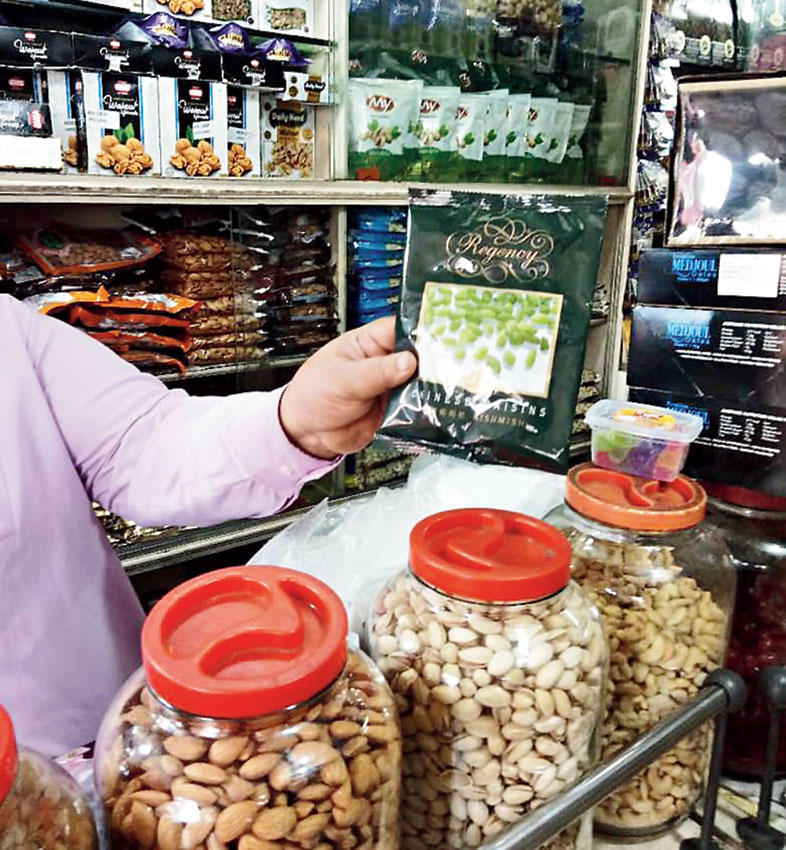 Chinese raisins for sale at a dry fruit's shop at Bistupur in Jamshedpur on Thursday
Picture by Animesh Sengupta
---
Jamshedpur
|
Published 06.02.20, 06:43 PM
|
---
Fear of coronavirus has gripped the steel city with residents taking extra precautions to keep the killer virus at bay.
Vendors selling fruits and raisins imported from China have stopped placing fresh orders after the outbreak of the virus.
Daya Ram, a Bistupur-based fruit vendor, intends to sell his stock of Chinese pears and apples, but has not placed a fresh order for the two fruits.
"Some customers prefer Chinese pears and apples. Even they are not asking for these fruits anymore apparently because of the fear factor involving coronavirus. I have also decided not to place any more orders," Ram told The Telegraph.
Raja Singh Bhatia, owner of a fruit and nut shop in Bistupur, said he used to sell Chinese raisins till a fortnight ago.
"But after the news of coronavirus broke, no one is asking for Chinese raisins, which is green in colour and very tasty. I have stopped placing any fresh order," Bhatia said.
Last Friday, the blood and throat swab samples of two steel city residents, who had recently returned from China, were sent to National Institute of Virology in Pune for examination.
"We received the reports on Tuesday and both of them — a man and a woman — have tested negative," East Singhbhum district civil surgeon, Maheshwar Prasad said.
Prasad, who is also Integrated Disease Surveillance Programme (IDSP) officer, said the woman had been to Beijing and returned home to Mango on January 17.
The man, who had visited a number of cities in China, including Beijing, had come back to Jamshedpur on January 21.
Prasad said as the Centre had made it mandatory for every person returning to India in planes to undergo the test at the airport itself.
But the notification was issued on January 20 and airport authorities in Delhi, Calcutta and Mumbai took around one week to put the screening system in place.
"The district civil surgeon's office would not have subjected the two steel city residents had they undergone the screening at the international airports," he said.
He lauded the IDSP's network across the steel city for detecting the man after his return from China.
Rajendra Institute of Medical Sciences in Ranchi had also sent two samples of throat swabs of a man and woman, who had returned from China, for testing at the Indian Institute of Virology, Pune. Both of them have tested negative.
Workshop in Dumka
World Health Organization held a one-day workshop on coronavirus and vaccine-preventable diseases at Dumka Medical College Hospital on Thursday.
Detailed information on the prevention and detection of coronavirus and the symptoms of infection were provided.