Dalma sanctuary museum to reopen for tourists in 2 months
Renovation began 3 years ago but was incomplete owing to lack of funds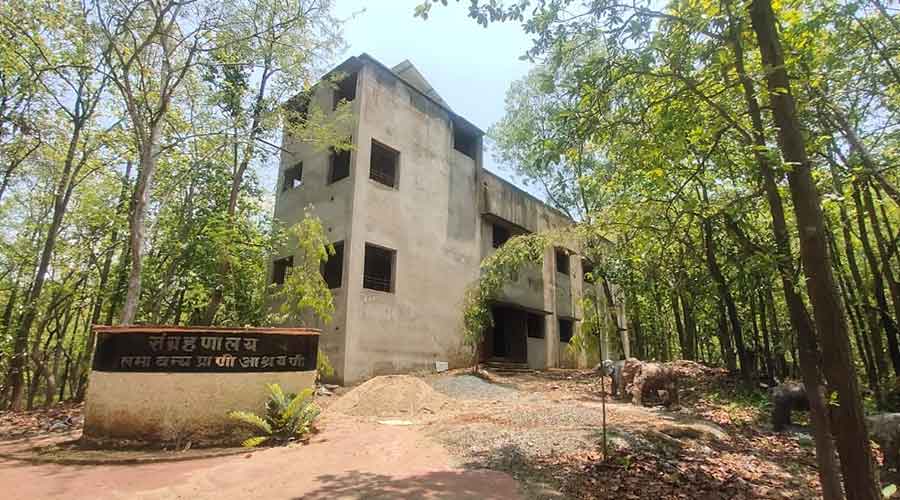 The renovated museum inside Dalma wildlife sanctuary.
The Telegraph picture
---
Jamshedpur
|
Published 26.05.21, 08:24 PM
|
---
The Dalma wildlife sanctuary's renovated museum will be thrown open to tourists in two months.
Construction of the two-storey museum began three years ago but it could not be completed due to various factors like insufficient funds.
Located near the main entry point of the sprawling 192sq km jumbo abode at Makulakocha, the museum is being built by the state forest department under the eco-tourism project.
Dalma divisional forest officer Abhishek Kumar said things were on track and the museum would be finally opened in about two months time. "The renovation of the museum is an old project which has been hanging for three years. But for the pandemic-induced lockdown, the museum would have been opened to tourists," he added.
The museum will be commissioned once the Covid-19 situation improves and the sanctuary reopens for the tourists. The elephant abode is presently closed owing to the pandemic.
Kumar, who is also regional director (Elephant Project), said dioramas depicting animals in their natural habitat will be fixed by an Ahmedabad-based designer. "The designer was not able to come due to the lockdown. But we are optimistic that the museum should be commissioned in about two months," he added.
The state forest department has roped in Avinesh Chauhan for fixing the dioramas.
Apart from dioramas, the museum will be equipped with a library and an interactive audio-visual. While models of animals will be displayed on the ground floor, the library and interactive audio-visual space will be on the first floor.
The museum was primarily aimed at educating school and college students who often visit the sanctuary to learn about flora and fauna. Resource persons will be available to educate students and attend to tourists flocking the sanctuary.
A forester said power at the museum would be generated by solar panels. "Thirty six solar panels have been fixed at the terrace of the museum. There was need to strengthen the security around the museum because it would host rare and expensive exhibits such as elephant tusks, barking deer antlers and stuffed animals, birds and reptiles," he added on condition of anonymity.
According to him, footfall will increase once the renovated museum opens. So, it is necessary to tighten the security apparatus. Forest guards will be deployed round-the-clock.
The Dalma range office has an enviable collection of ivory, part of which were seized from poachers. "We find tusks after bullfights between elephants inside the sanctuary. The ivory and antlers have been kept at a locker in the range office," an official said.