Dalma captive jumbos turn sombre, listless after friend's death
Elephants know the sadness that memory can bring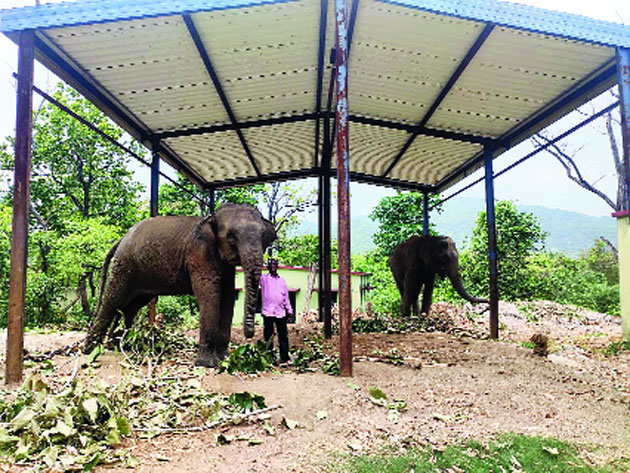 Rajni (left) and Champa at Dalma wildlife sanctuary on Tuesday.
Picture by Bhola Prasad
---
Jamshedpur
|
Published 12.05.20, 08:22 PM
|
---
 It is said that elephants have a jumbo memory, and the death of a pachyderm at Dalma Wildlife Sanctuary on Saturday evening has underscored the ache that memories often bring.

The death of the ailing, 60-plus-years-old captive elephant Lakshmi (also called Ramavati) due to age-related issues has left a void in the lives of her two friends.
Rajni is no longer playful and Champa remains in a sombre mood most of the time. Their mahouts say the elephants feel lonely and are now reluctant to go for daily walks.
It was only over a year that the three jumbos became friends.
Lakshmi, who was freed from the clutches of mahouts in Deoghar and brought to Dalma sanctuary for rehabilitation in March last year, had specially taken to the 10-year-old Rajni.
The senior elephant also liked Champa, a 50-plus jumbo, who has been at the sanctuary for over a decade now.
A forester said Rajni and Champa had beecome indifferent to food and were being cajoled by mahouts to go for daily walks inside the sanctuary. "The two used to always remain hungry and wipe out food in no time. But both look very sombre now and like to remain chained under the shed at Makulakocha. Both are anguished over the death of Lakshmi," he added.
The absence of Lakshmi seems to have taken a heavy toll on the young Rajni, who was brought to the sanctuary after she fell into a well in Seraikela in 2010.
"It was like a mother-daughter relationship between Rajni and Lakshmi. We also feel very sad watching Rajni," the forester said,.
Dalma range officer (west) Dinesh Chandra : "Rajni and Champa are sad. The elephants are missing Lakshmi. In fact, Rajni seemed very angry on Saturday evening when Ramavati was undergoing treatment. She wanted to be freed and go close to the ailing Lakshmi. We were moved by Rajni's feelings," Chandra said.
He said it would take some time for the elephants to reconcile to the loss of Lakshmi.
"Rajni is more affected over the death of lakshmi. She is no longer joyful and wants to remain anchored under the shed. Rajni is extremely sad," he added.
The range officer said the forest staff were also sad over the death of Lakshmi.