Covid effect: Economic slump makes a dent into academic career of youngsters
Decrease in family income has made the dropout rate shoot up in suburban areas of Jharkhand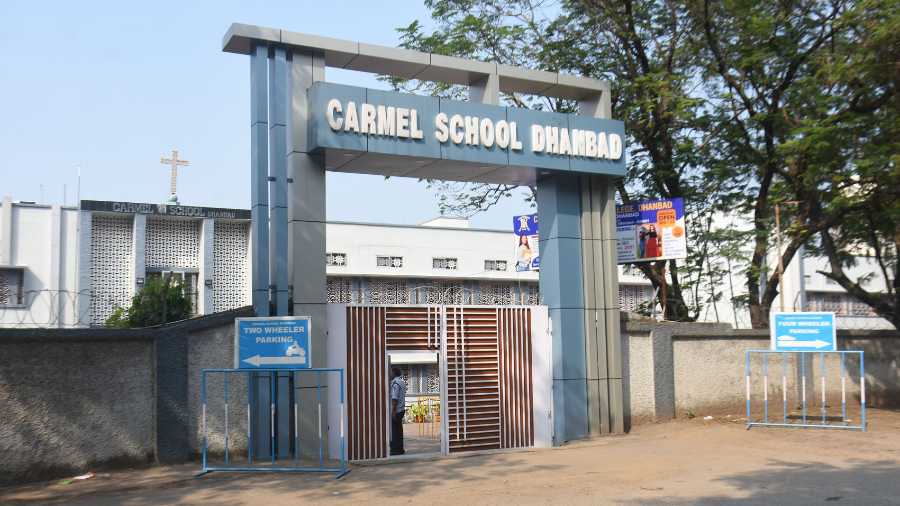 Carmel School Dhanbad, on Wednesday.
Gautam Dey
---
Dhanbad
|
Published 18.11.21, 09:14 PM
|
---
Pandemic-induced economic slump has affected the careers' of many students. Many private schools are witnessing a steady rise in the number of dropouts as parents have lost, their decreased income the drop outs have increased in many schools particularly the schools located in suburban areas.
The number of dropouts has increased. The recent issuance of admission and registration forms for entry level classes by many schools along with notice for admission in senior classes to fill up vacancies created by the dropouts, has confirmed the news.
Acknowledging the increased dropout rate  in schools, Tanushree Banerjee, Principal of De Nobili School, Koradih  said, "Though the response for the purchase of registration forms purchase for entry level classes is slightly better than what we saw last year, but we can't deny the fact that an overall gloomy situation still prevails that we are coping  with especially when it come to dropout rate. We have thus announced open admission for other classes other than that for the entry level."
Notably, the registration forms for All De Nobili Schools of the district including De Nobili CMRI, Digwadih, Mugma, Maithon, Koradih, Sindri have been issued on November 15 while in some branches of the De Nobili Situated in town only online admission forms submission and issuance arrangements have been made in others the offline arrangement for form submission has been continued.
"Since our school is situated in a slightly remote area we have issued the forms offline for convenience of the parents, whereby parents following the Covid appropriate behavior can take forms from the school counter and submit  the same on the counter," said Banejree.
Echoing a similar sentiment, KC Srivastava, Zonal Director of the DAV Schools of the Dhanbad Zone said "Yes, indeed there have been dropouts during the pandemic. The number was lesser in higher classes, parents of students in higher classes somehow have managed to pay the school fees, unlike those of kids in junior section." He added that soon they will issue the admission forms for the entry level on November 22 in all DAV Schools of Dhanbad Zone they will also allow the schools to fill vacancies created by the dropouts.