Floral salute for healthcare workers
Doctors and health workers clap, cheer, wave back at the choppers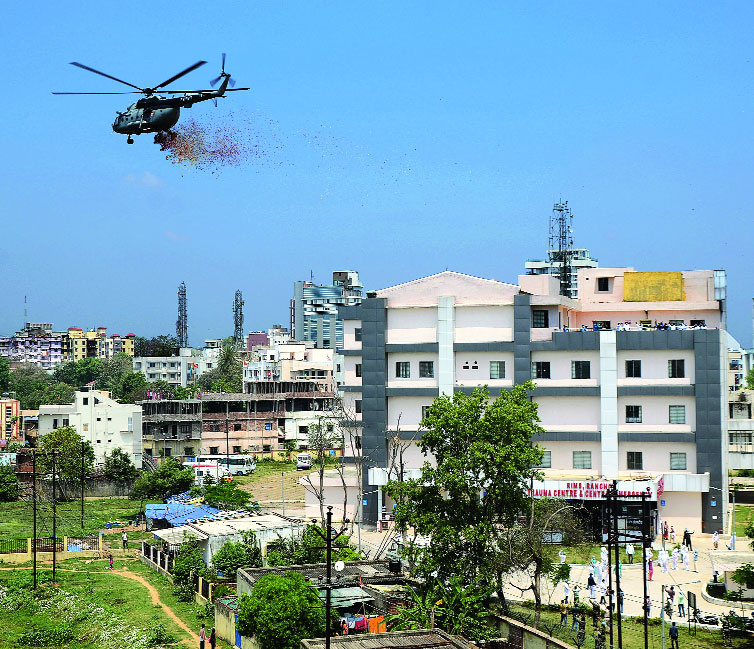 ---
|
Ranchi
|
Published 03.05.20, 09:08 PM
---
Two special choppers of the Indian Air Force (IAF) on Sunday morning showered rose petals on doctors and other healthcare workers of four hospitals of the capital as a token of gratitude for their "exemplary services" rendered during the ongoing Covid-19 pandemic.
These choppers were manned by group captain Suseem Siwach and squadron leaders Nishant Gaurav and A. Varshney.
In Ranchi, there are four hospitals, RIMS at Bariatu, Sadar Hospital near Albert Ekka Chowk, Paras Hospital at Dhurwa and CCL Gandhinagar Central Hospital at Kanke where Covid-19 patients have been lodged for treatment or are taken for observation.
Around 10.45am, these choppers made sorties and flew past these hospitals, showering petals on them.
"This is our gratitude towards medical professionals and other frontline warriors such as the police, media and others who are offering exemplary service at a time when we are all trying to save people from Covid-19 and controlling its spread. The IAF choppers showered flower petals on four hospitals of the capital where either Covid-19 patients are taken for treatment or kept under observation," said Ranchi DC Rai Mahimapat Ray.
Ranchi florist Arun Kumar Khemka provided 200 kilos of rose petals.
"This was my small contribution to honour the frontline staff and I am happy to be a part of this thanksgiving exercise. What frontline workers are doing for our safety and health can't be compensated in any way," Khemka said.
Maintaining social distancing, doctors and health workers stood on the premises of their hospital, looking skyward for choppers.
Doctors and health workers clapped, cheered, waved back at the choppers, clicked pictures as the petals fell.
"The whirring sound of choppers sounded like music. We felt elevated, inspired and energetic. Our services were recognised. We promise we will treat and cure patients and kick this virus out," said Ranchi civil surgeon Dr Vijay Bihari Prasad.
Dr Manju Mishra of CCL Gandhinagar Central Hospital echoed the civil surgeon. "We felt very special for the way we were honoured," she said.
Not only doctors and health workers, people at the adjoining localities of these hospitals were excited to watch flower show.
Children stood on the rooftop of their houses to watch choppers. Five-year-old Shirish, a resident of Gandhinagar, said: "Choppers flew so low over my home…they threw flowers and my mother said they threw chocolates also. I did not get any," he said as his mother grinned.