Covid: Jharkhand health dept proposes marking black fungus as an epidemic
The state has so far witnessed 27 deaths due to mucormycosis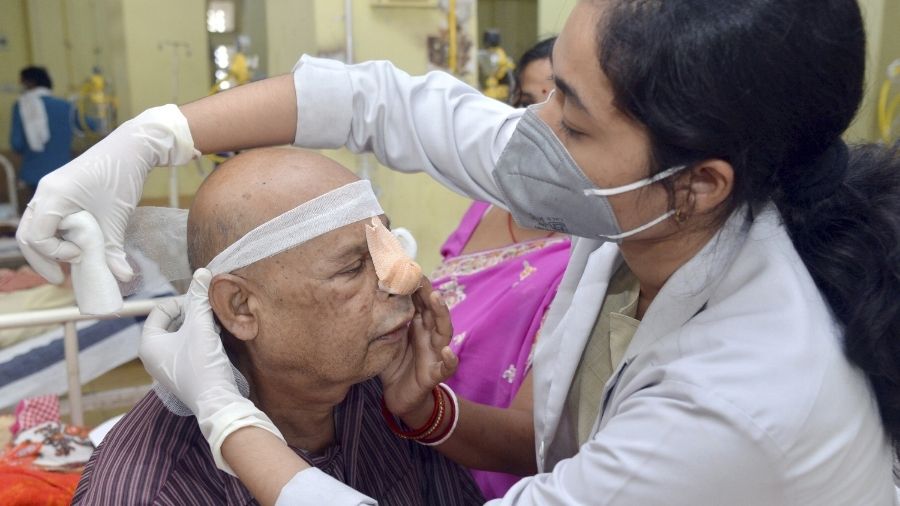 As soon as the cabinet pass it as an epidemic, all hospitals will have to follow government guidelines for screening, diagnosis, management of mucormycosis
File picture
---
Jamshedpur
|
Published 25.05.21, 12:45 AM
|
---
Jharkhand health department has sent a proposal to the cabinet to notify mucormycosis also known as black fungus as an epidemic.
Sources in the health department said the state has so far witnessed 27 deaths due to mucormycosis. As soon as the cabinet pass it as an epidemic, all hospitals will have to follow government guidelines for screening, diagnosis, management of mucormycosis.
Jharkhand additional chief secretary, health, Arun Kumar Singh has already directed all civil surgeons, director, principals and superintendents of medical colleges, deputy commissioners of all the 24 districts and surveillance officers to strictly adhere to the guidelines for mucormycosis.
"The guidelines mention symptoms, signs, risk factors, diagnosis, treatment options for mucormycosis, complications of mucormycosis and preventive measures," said Singh.
The additional chief secretary had on Sunday also announced of making the state's biggest government hospital Rajendra Institute of Medical Sciences (RIMS) at Ranchi as the nodal centre for management of mucormycosis .
"This has been done to ensure quality healthcare services for mucormycosis patients, effective adherence to the best clinical management as well as uniform treatment protocols. This will also prevent misuse of drugs used for the treatment of the disease. RIMS has been asked to earmark a ward and constitute a technical expert group (TEG), as team approach is required in the treatment of mucormycosis," said Singh.
"The TEG may comprise  different experts such as microbiologist, internal medicine specialist, intensivist, neurologist, ENT specialist, ophthalmologist, dentist, surgeon/faciomaxillary/plastic surgeon, neurosurgeon, biochemistry etc," he said.
Mission director National Health Mission (NHM) Jharkhand, Ravishankar Shukla, directed all the 24 district's deputy commissioners and civil surgeons to ensure daily reporting of mucormycosis infection for prevention, control and surveillance at all the private and government health centres.
Meanwhile, chief minister Hemant Soren held a virtual meeting with cabinet colleagues on Monday evening and informed about the government's preparation for third wave of the Covid-19 pandemic and also informed about the delay in the arrival of vaccine stock.
"We have only two-three days' stock of vaccine for those in the age group of 18-44 years while stock of vaccine for 45 years and above will last for only a week. We have submitted our demands but are yet to receive the stock," said Soren.
"We have held consultations with senior paediatricians and acting on their suggestions steps are being taken to set up PICU (Pediatric Intensive Care Unit) and  SNCU (Sick Newborn Care Units) at all designated Covid hospitals and Sadar Hospitals across all the 24 districts," administrative officer of Jharkhand rural health mission, Suman Pathak, said on Saturday.
Incidentally, SNCU are units meant primarily to reduce the case fatality among sick children and PICU are units where children are taken when they require the highest level of quality paediatric care.
To reduce the time span in getting the RTPCR report especially in rural areas, the government will sign an agreement with a Delhi based firm JITM Skills Private Limited for mobile based RTPCR testing and delivering the reports within 24 hours.
"We have selected 12 districts based on the basis of active cases, positivity rate and population density and the Delhi based firms would be deploying mobile testing labs in the districts of Ranchi, Dhanbad, Garhwa, Gumla, Simdega, East Singhbhum (Jamshedpur), Bokaro, Deoghar, Latehar, Sahebganj, Jamtara and Pakur. This would be in addition to the existing eight RTPCR facilities (including four private labs)," said nodal officer sample testing and collection Naman Priyesh Lakra who is also the tribal welfare commissioner.
This apart, the state government will launch a massive door-to-door public health survey from May 25 to identify potential Covid patients and ensure medical help at their doorstep involving thousands of health care workers who are being trained for the survey.