Covid: Hemant flags off fleet of Sanjeevani vehicles in Ranchi
GPS-enabled vehicles loaded with oxygen cylinders will be available 24x7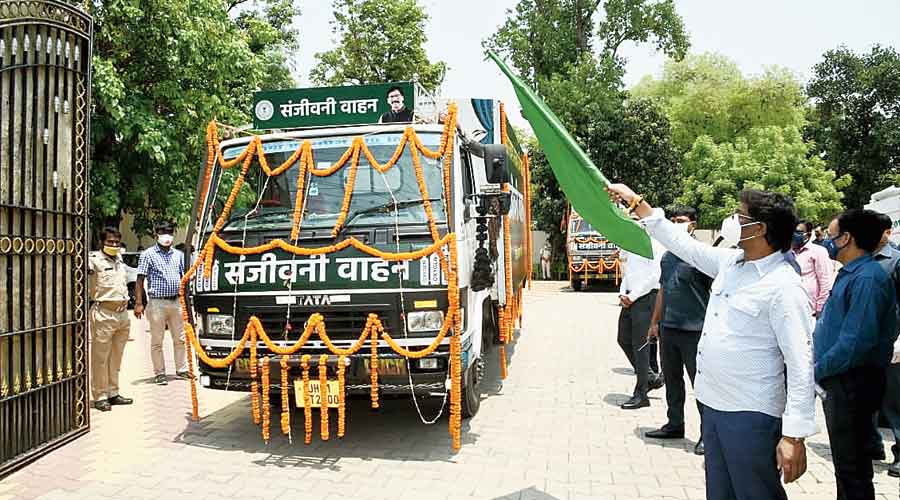 ---
---
GPS enabled Sanjeevani vehicles loaded with oxygen cylinders will ensure availability of oxygen to heal hubs in Ranchi round the clock.
Jharkhand chief minister Hemant Soren on Tuesday flagged off the first fleet of such Sanjeevani vehicles at Ranchi.
"The government has introduced Sanjeevani vehicles to ensure availability of oxygen at hospitals in Ranchi in the first phase.
Soon it will be started in Dhanbad and Jamshedpur too (two other hotspots of Covid second wave in Jharkhand)," said Soren.
The chief minister announced that oxygen cylinders will always be available in these vehicles and will remain in 24x7 operation mode.
"Oxygen cylinders will always be available in these vehicles. Under Ranchi district, the hospital where oxygen will be needed, immediate oxygen availability will be ensured at the earliest.
"Sanjeevani vehicles will also have GPS tracking systems, so that it can be monitored properly by the district administration. Now patients will not have to worry about availability of oxygen in the hospitals. We are also trying to increase the number of oxygen supported beds and ventilator facility in the hospitals of Ranchi and other major cities," said Soren.
Sanjeevani vehicle will be used by Ranchi district administration for uninterrupted supply of oxygen in the hospitals within the district. Through this vehicle, immediate oxygen supply will be ensured in a timely manner to the hospitals as per the requirements.
Also, an oxygen refilling cell has been activated in the district. The cell would monitor the supply of oxygen as per the demand.
Free meals by church
The Ranchi Catholic Church on Tuesday launched a free lunch service for the relatives of patients hospitalised in Ranchi's biggest hospital RIMS.
The service is conducted by the Ranchi Catholic Church under the leadership of archbishop Felix Toppo and Ranchi auxiliary Bishop Theodore Mascarenhas and organised on the ground by the Ranchi Catholic Youth unit led by its president Kuldip Tirkey. Free packed hot lunch consisting of rice, lentils (dal), chicken and vegetables along with bottles of mineral water were served to the needy people.
"The church will continue to work for the poor as RIMS is frequently by the poor and needy who do not have time nor resources to prepare meal for themselves. We are conducting these program with all safety precautions and Covid guidelines," said Bishop Mascarenhas.
Till Tuesday morning, the state had added 6,899 positive cases taking the total number of active cases to 59,675. The total deaths due to Covid as on Tuesday morning was 3,073.