Hunger barks loudly, Dhanbad stray dogs bite
Data from PMCH suggest that despite the lockdown, an average of 60 incidents are reported daily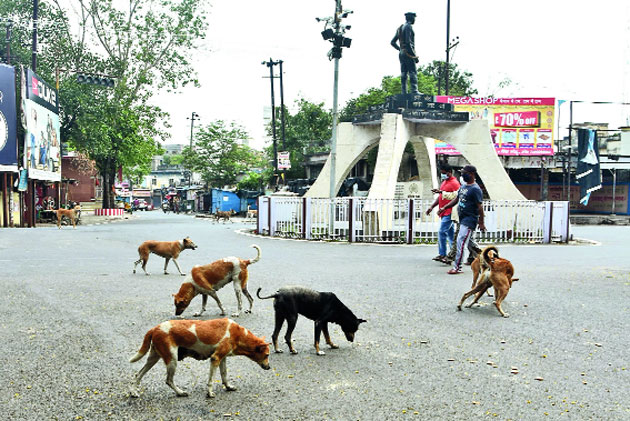 Strays roam in search of food near Randhir Verma Chowk in Dhanbad on Tuesday.
Picture by Gautam Dey
---
Dhanbad
|
Published 05.05.20, 08:06 PM
|
---
Growing cases of dog bites in Dhanbad are a side effect of the ongoing lockdown, which has completed six weeks in Jharkhand.

Stray dogs, now bereft of their steady food supply of leftovers from over 10,000 eateries across the district, are turning more aggressive. Data from the Patliputra Medical College and Hospital (PMCH) suggest that despite the lockdown when most people stay inside homes, an average of 60 dog bites are reported daily.
Sixty-six cases of dog bites were reported on May 4, 43 on May 2, 41 on May 1, 30 on April 30, 24 on April 29, 51 on April 28, 86 on April 27, 38 on April 25, and a whopping 150 on April 24 and 23. May 3 and April 26 being Sundays, the OPD was closed.
Anutosh Bagchi, senior general manager of the Skylark Hotel and a well-known dog lover who feeds stray dogs every day in Dhanbad and has been given a pass by the district administration during the lockdown for this job, admitted that many strays did not get enough food.
"Around a dozen people who feed dogs have increased their activity during the lockdown, but that's not enough. We are also exploring tie-ups with organisations to feed stray animals on a mass scale. Being hungry increases aggression in the animals," said Bagchi.
In charge of the pet clinic of the district animal husbandry department, Dr Srinivas Singh, said: "We appeal to people to feed strays. There is no government scheme to feed stray animals."
Rana Ghosh, a member of national NGO, People for Animals, who feeds dogs and has installed over 30 concrete pots to serve food and water to stray animals in Dhanbad last month, said the issue needed attention at the government level. "Stray animals need to be fed during the lockdown in an organised manner. Not just dogs, all stray animals are badly affected by the lockdown. An ill bull lay on Luby Circular Road for two days and none of the civic bodies, Dhanbad Municipal Corporation or Mada, did anything. The bull died on Monday," he said.