Hul Divas celebrations off for Covid
The annual public observance takes place in memory of Sidho and Kanhu Murmu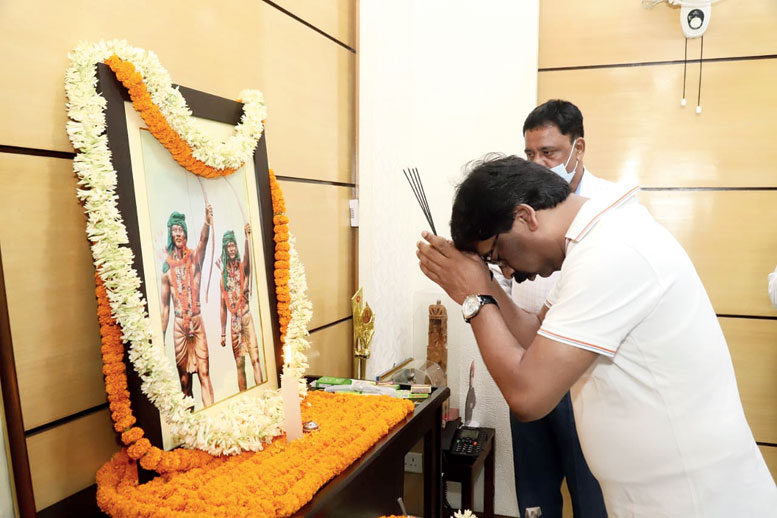 ---
|
Ranchi
|
Published 01.07.20, 02:12 AM
---
Covid-19 pandemic not only forced cancellation of annual public observance of Hul Divas at Bhognadih in Sahebganj district, about 375km from Jharkhand capital, on Tuesday but also buried the possibility of an open political face-off between the ruling combine and the Opposition.
Hul Divas is observed annually on June 30 in memory of tribals — Sidho and Kanhu Murmu — who led the Santhal hul (rebellion) on June 30, 1855, at Bhognadih in Sahebganj district. A fair is also organised.
While people, mostly Santhals from Jharkhand and neighbouring states, gather there in large number to celebrate what they think was the first people's action against the British, the leaders such as the chief minister also attend the function to pay tribute to the tribal leaders and also to woo the Santhals whose vote matter a lot in the state politics.
Besides the lockdown, the occasion was also threatened by death of Rameshwar Munda, a 28-year old descendant of the tribal icons whose body was found in a field near the village on June 13.
Some have alleged that Rameshwar was murdered and his family also lodged an FIR accusing a villager who later surrendered in the court.
The BJP sent a 10-member fact finding team there last week that, after speaking to the Rameshwar's family, said it appeared to be a case of murder. They also demanded a CBI inquiry and accused chief minister Hemant Soren (who also happens to be the MLA of Barheit under which Bhognadih falls) of going soft with the case.
The BJP leaders also met governor Draupadi Murmu at Raj Bhavan in Ranchi on Monday and submitted a memorandum seeking CBI inquiry into Rameshwar's death.
Soren, while speaking to the reporters in Ranchi the same evening, said he had no objection to CBI inquiry and would rather prefer it began soon.
"Let the case be inquired even by a higher agency, if there's any," Soren further said, adding the police was already looking into the case and the findings would come out soon.
He also said that observance of Hul Divas was of utmost importance to the state for making the posterity aware of the contributions made by the tribal icons and hoped "it would be observed again next year".