At home in a Tata Nano for 50 days & counting
Man driving to Assam's Kamakhya temple stuck in Hazaribagh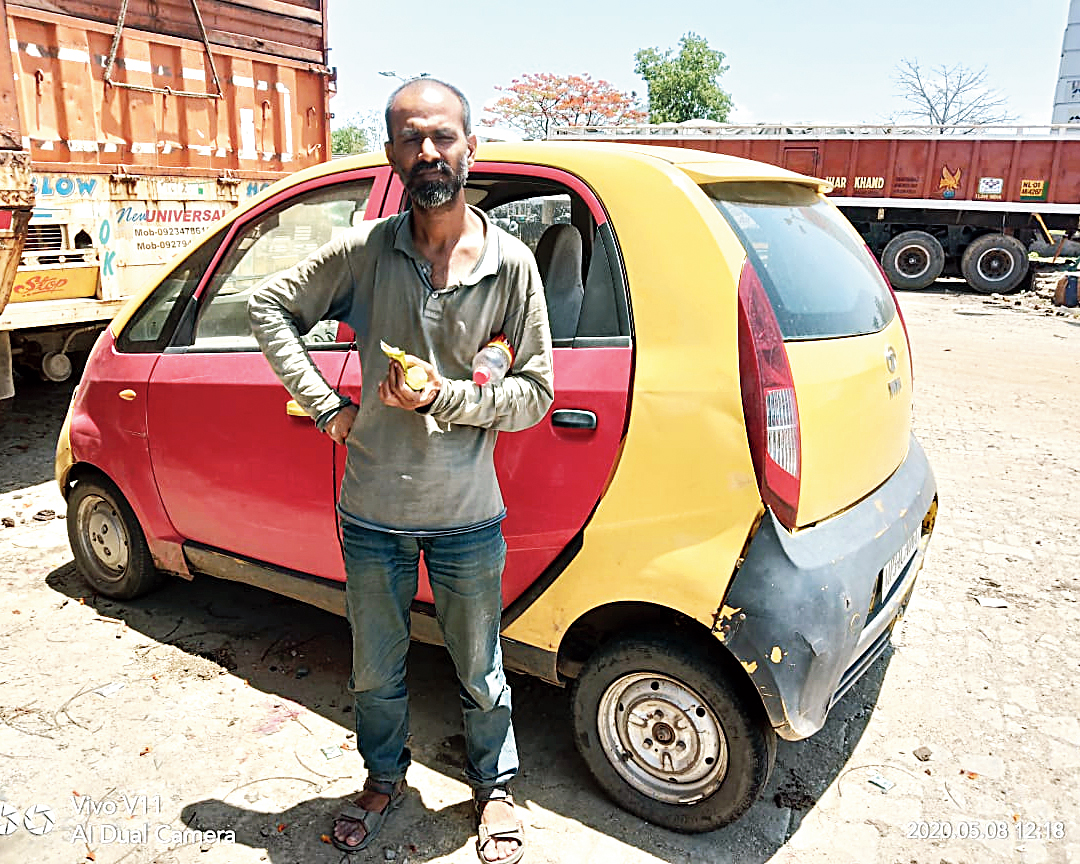 ---
Hazaribagh
|
Published 14.05.20, 10:38 PM
|
---
If you thought the Tata Nano was a tight squeeze, think again.
While 50 days of lockdown has become a national milestone, Paras Dwivedi, 45, of Sagar in Madhya Pradesh, has his own.
Dwivedi has passed some 50 days sitting and sleeping in his Nano at the landmark Chouparan petrol bunk along the GT Road in Hazaribagh.
Asked about his journey from hometown Sagar, Dwivedi said he got a "call from mother goddess" at the Kamakhya temple in Guwahati, Assam, which is why he started on March 22.
His Nano ran into trouble at Chouparan in two days after an 850km drive. That happened to be March 24 when Prime Minister Narendra Modi announced the first nationwide lockdown. The lockdown came into effect from Wednesday and Dwivedi got stuck.
"My car wouldn't start and the lockdown started, I couldn't get a mechanic to fix it," he said. "I got a mechanic but he demanded Rs 10,000. I did not have that kind of money. So I made my Nano my home."
Local residents and NGOs have tried to help out Dwivedi with food. But a man has his pride, he said with dignity. "I am running short of money, but I don't like having anything for free. Also, I try and eat only fruits. I am a spiritual man," he said. "I'd be grateful if someone reading this helps me fix my car so that I can go to the Kamakhya temple."
His mother and sister who live in Sagar may be worried about him, he said, but he has put his destiny in the hands of divine powers, he said.
What about his career? "I used to be a lawyer but my licence is now cancelled," he said but did not elaborate.
On Wednesday, Chouparan block development officer Amit Kumar Srivastava met Dwivedi and offered him food and other basics. The BDO later told The Telegraph that Dwivedi was just keen on getting his car fixed and going to the Kamakhya temple. "He refused to give me his mother's contact number. Let the lockdown end, I will help him go wherever he wants."