61 board train to Delhi
Passengers hint at desperation during lockdown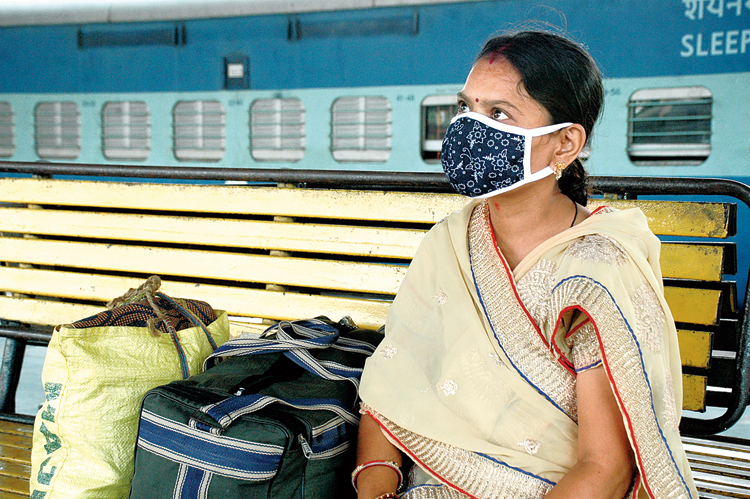 A passenger waits for the special train at Tatanagar station's platform 3 on Wednesday.
Picture by Bhola Prasad
---
Jamshedpur
|
Published 13.05.20, 08:07 PM
|
---
Tatanagar station saw usual passengers — not migrant workers — after nearly two months as 61 boarded the special train to Delhi after the Indian Railways partially resumed train services.
The train which started from Bhubaneswar (Odisha) on Wednesday morning will reach Delhi on Thursday morning. Before reaching Tatanagar, it made a halt at Balasore (Odisha).
"The train scheduled for arrival at 4.15pm arrived 20 minutes late. In all 61 passengers boarded the train from Tatanagar and two from Bhubaneswar alighted at Tatanagar. We followed all the standard hygiene operating protocols in coordination with the district administration such as social distance, checking of e-tickets, sanitisation and thermal screening of all passengers," said Tatanagar station director H.K. Balmuchu.
Anxiety was writ large on the faces of most passengers who at platform 3 of the nearly deserted Tatanagar station when the train was late, till the railway staff present reassured them that the train was on its way.
Passengers said they were boarding a train at a time like this as they were desperate. Meera Sharma, 32, a resident of Badarpur in Delhi, said she came to Mosaboni in Ghatshila near the steel city, to look after her ailing father-in-law on March 14, leaving behind her small children back home with her husband who did not get leave from work.
"Then I got stuck in the lockdown. I am desperate to go see my kids," she said.
Ganesh, 27, a resident of Mayur Vihar in Delhi and an employee of a private firm there, said he came for a wedding in Golmuri, Jamshedpur, on March 18 and again got stuck in the lockdown. "I'm worried about my job, I have to return. In April I only got half my total salary," he said.
Aspiring cricketer Mukul Rai, 18, said he had come in March from Uttar Pradesh to the steel city to practise at an academy here in Kadma.
"I had to spend nearly two months at a paying guest spending Rs 200 daily," he said.
Migrants return
As many as 1,140 migrant labourers from 23 districts of the state reached Bokaro railway station by special train from