1289 workers back in Dhanbad with worries
While 1,233 of them reached by Shramik Express, 56 came in 2 private buses travelling a distance of 1,775km in 29-and-a-half hours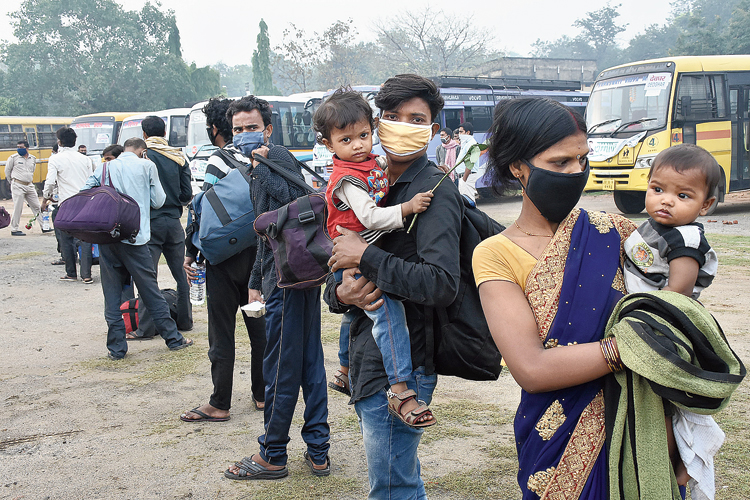 Migrant labourers of Jharkhand stand in queue at Golf Ground in Dhanbad after arriving from Surat in Gujarat on Wednesday
Pictures by Prashant Mitra, Shabbir Hussain and PTI
---
Dhanbad
|
Published 06.05.20, 11:32 PM
|
---
A total of 1,289 migrant workers and their family members on Wednesday reached Dhanbad from Surat in Gujarat and they said they paid Rs 715 each to an NGO at a time they have no job and the future looks bleak.
While 1,233 of them reached by Shramik Express (09075), 56 came in two private buses travelling a distance of 1,775km in 29-and-a-half hours.
Santosh Yadav, a worker from Koderma who came on the train, said: "I paid Rs 715 to an NGO member who provided me the train ticket."
Out of the 1,233 passengers, 1,157 were from Giridih, 40 from Deoghar, 27 from Ranchi, five from Koderma, two from Dhanbad and one each from Hazaribagh and Dumka.
Since most of the workers were from Giridih, the deputy commissionxer of Giridih, Rahul Kumar Sinha, had also come to the Dhanbad station with a large number of officials from to take back the workers and their family members.
Sinha said: "We are here with 41 buses to take back the workers to our district where they will be sent to their respective blocks and will be put on institutional quarantine for 14 days in the quarantine centres of their respective blocks after carrying out proper medical checkups."
Amit Kumar said: "The workers of seven districts reached on Wednesday in the Shramik Express out of which more than 90 per cent were from Giridih. We made adequate arrangements for their medical screening after which they were sent to their respective places."
The 56 passengers who reached Dhanbad in two private buses were sent to the Golf Ground. After medical screening by a team led by the medical officer-in-charge of sadar hospital, M. Narayan, they were sent to their respective places.
Murli Kumar Verma, a worker from Giridih, said: "I used to work as a welder in a small workshop in Surat and faced a lot of difficulty in surviving ever since the lockdown was announced. Only I know how I reached Dhanbad." Jageshwar Mahto, a resident of Katrasgarh in Dhanbad, who reached in a bus, said: "I have been working in Surat for the past five years with a private courier company. After the lockdown, the company sent us a mail saying operations and offices are closed so we can leave for our respective places. We were facing a lot of difficulties in Surat for the past 45 days after the closure of our office and somehow I have reached Dhanbad."
Dhanbad deputy commissioner Amit Kumar; senior superintendent of police Akhilesh B. Verior; and senior divisional commercial manager of the Dhanbad railways division welcomed the workers and their family members with food packets and water.
The migrant workers were sent to their respective places in buses after thermal scanning by a team of doctors led by district civil surgeon Gopal Das.