Community volunteers in Jharkhand's sting-fight plan
Larval surveillance and control are critical components of any effective integrated mosquito management programme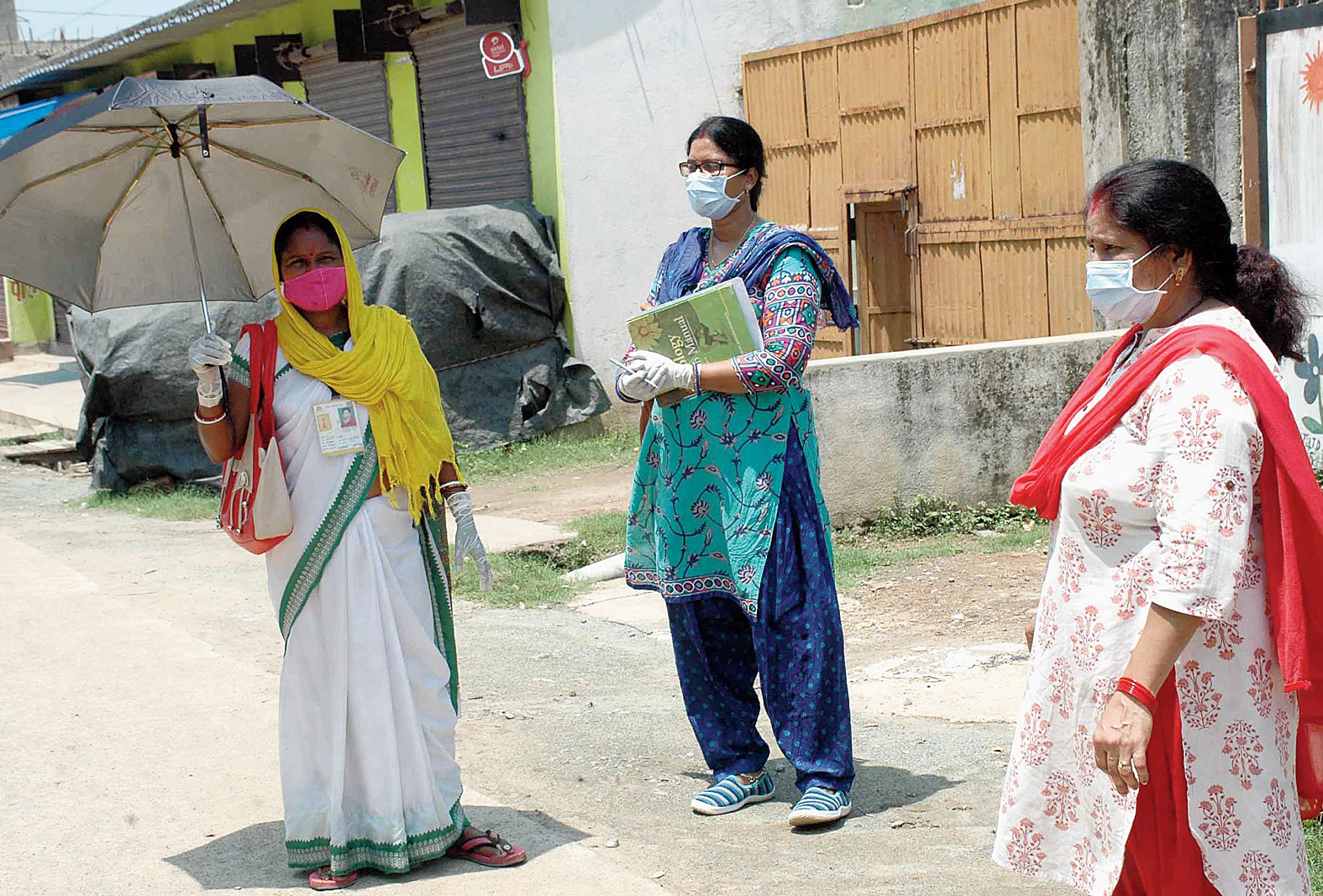 Sahiyas create awareness in Govindpur in Jamshedpur against vector-borne diseases.
Picture by Bhola Prasad
---
Jamshedpur
|
Published 04.06.20, 10:42 PM
|
---
The Jharkhand health department has decided to hire community volunteers for larval surveillance from the middle of this month to prevent the outbreak of vector-borne diseases at a time the state is busy battling the Covid-19 pandemic.
The decision follows a lukewarm response of civic bodies to calls for sparing a few of their staff for assisting health workers in larval surveillance and density assessment of Aedes aegypti mosquitoes that cause dengue.
"Since May, we have sent several reminders to the civic bodies through the state urban development secretary to depute staff for assisting our health workers in larval surveillance and density assessment work. But civic bodies at the local level cite lack of manpower and claim that all staff are busy in waste collection, drain cleaning and providing essential items in containment zones. Things will go out of control if there is an outbreak of dengue and chikungunya after the advent of monsoon in the middle of June," a senior official in National Health Mission's (NHM) state chapter in Ranchi said on the condition anonymity.
In a letter to state principal health secretary Nitin Madan Kulkarni on May 13, Union health secretary Preeti Sudan had underlined the need for a concerted effort to manage vector-borne diseases to prevent major outbreaks.
"We need to note that malaria and dengue tend to have cyclic patterns and show a trend to spike after 5-6 years and 2-3 years, respectively. We have been fortunately witnessing a decline in malaria since 2015 and hence this year may be critical in the given cyclical trend. We need to prepare for effective prevention and control of various vector-borne diseases throughout the country," the Union health secretary had said in the letter.
The state health department plans to hire 114 trained community volunteers for 100 days at a cost of Rs 285.52 per day.
"We are in touch with NGOs working in the healthcare sector to engage these community volunteers who should preferably be intermediate in science. As part of larval assessment, the volunteers assisted by our health staff will inspect known and new sources of standing water in a house-to-house survey. They will use standard dipping techniques to sample the water for immature mosquitoes and will undertake physical control (destruction of the water accumulation points) and chemical control (spraying larvicides)," said Sagya Singh, state entomologist and nodal officer National Vector Borne Disease Control Programme unit of Jharkhand.
Larval surveillance and control are critical components of any effective integrated mosquito management programme and involve the elimination of mosquitoes before they become adults.
The health department plans to depute the volunteers in urban areas that have witnessed dengue outbreaks such as Jamshedpur, Ranchi, Gumla and Dhanbad.
The districts in Jharkhand that are dengue-endemic are Ranchi, Jamshedpur, Dhanbad, Hazaribagh, Giridih, Gumla, Pakur and Sahebganj.
Last year, Ranchi had witnessed 177 dengue cases, Jamshedpur 67 and Dhanbad 47.
Women healthcare workers (sahiyas) will also be mobilised to raise awareness among residents to not let water accumulate in unused containers in their houses.
Kulkarni on Thursday confirmed issuing letters to all the deputy commissioners and civil surgeons in the 24 districts for vector surveillance to stop the outbreak of dengue and chikungunya.
"We have asked all the DCs and civil surgeons to submit an action plan on vector surveillance, including larval surveillance work, by June 10 so that work can commence from the middle of June till November. We will be using community volunteers, too," he said.
State urban development officials, who admitted to being preoccupied with waste management and Covid-19 pandemic, claimed that they would work in tandem with health officials to prevent dengue and chikungunya.
"Our employees are busy containing the spread of the novel coronavirus at the moment, especially in the 150 containment zones. However, in view of the advent of monsoon, we have started cleaning the drains to prevent water-logging and will soon team up with health staff in fighting the vector menace," Ramkrishna Kumar, deputy director of State Urban Development Authority, said.