Coal town's lone generic medicine shop offers 85% discount
Jivan Rekha Trust will launch 15 such facilities in a phase wise manner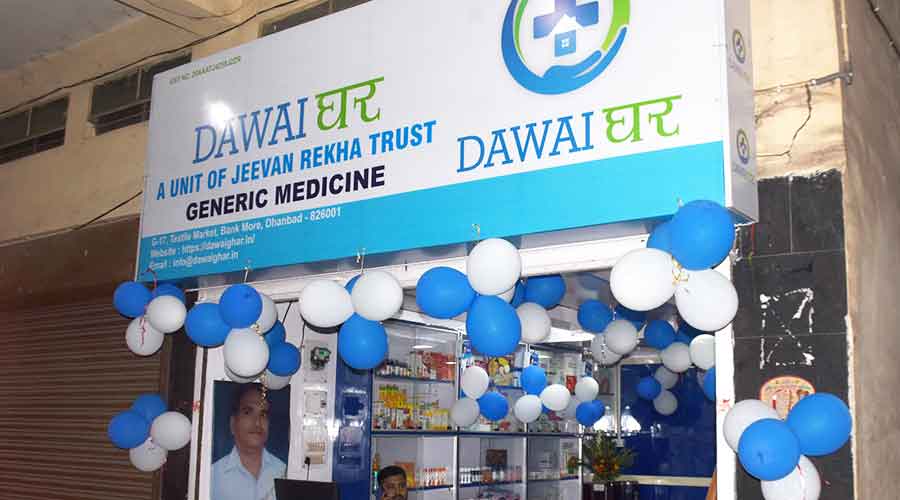 'DawaiGhar' at Textile Market in Bank More, Dhanbad on Monday.
Gautam Dey
---
Dhanbad
|
Published 12.07.21, 11:14 PM
|
---
Patients from economically weaker section facing difficulty in treatment due to high cost of medicines have reasons for some relief as Jivan Rekha Trust, operator of Asian Dwarkadas Jalan Memorial Super Speciality Hospital of Dhanbad, has launched a generic medicine shop, Dawai Ghar as part of its welfare activity at City Centre market complex on Monday.
The shop, jointly inaugurated by Dhanbad MP P.N. Singh, MLA Raj Sinha and general secretary of Jivan Rekha Trust, Rajiv Sharma is first among the series of 15 generic medicine shops to be launched by Jivan Rekha Trust in a phase wise manner.
Sharma said that they will offer 85% discount on purchase of medicines as the trust operates on a no profit and no loss basis.
Talking to media at the sidelines of the inaugural function, Sharma said, "The initiative to launch the generic medicine shop is to help such people who could not carry out treatment properly as they could not purchase the medicine due to high costs."
"We have plans to launch 15 such shops across the district  in phase wise manner out of which one will be launched next month at Govindpur," said Sharma.
"We have also plans to launch the OPD service at these generic medicines shops where the patients can avail the medical consultation service at the registration cost of only Rs 10," said Sharma and added that they would simultaneously appeal to all doctors of the district to prescribe cheaper medicine for the patients.
Dhanbad MP, PN Singh while lauding the initiative of the trust  said, "Due to higher cost of medicines and medical treatment many patients face a lot of difficulty and more  private health care providers operating in Dhanbad should follow the trend set by the Jivan Rekha Trust to help the common people"
Notably, the City Centre based generic medicine shop, launched today is the lone generic medicine shop offering a discount of over 85% on generic medicines as the generic medicine shop of Sahid Nirmal Mahto Memorial Medical College and Hospital inaugurated way back on September 3, 2012 is now lying closed since over an year due to lack of medicines.