Coal town students protest JAC 'faulty' evaluation
More than 200 examinees failed in the Plus Two exam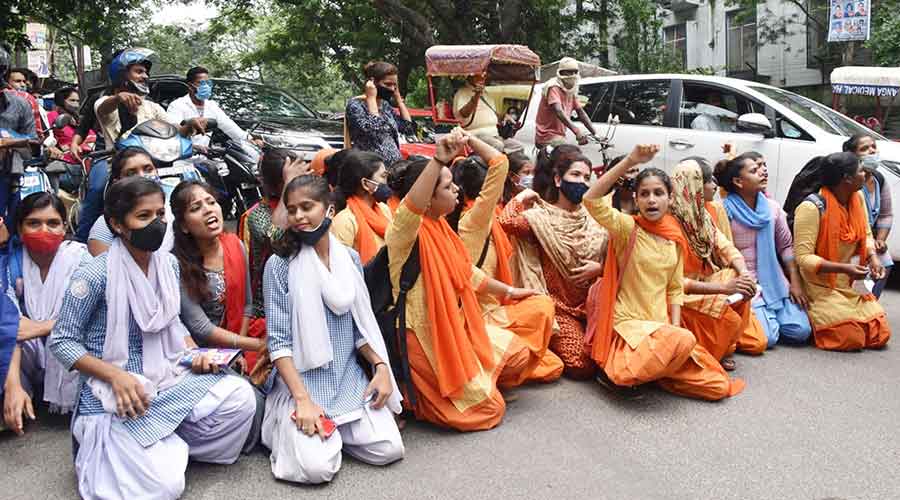 Students of SSLNT Women's College block the main road in front of the campus in protest against their results in Dhanbad on Monday.
Gautam Dey
---
Dhanbad
|
Published 02.08.21, 08:36 PM
|
---
More than 200 examinees of Jharkhand Academic Council who were declared unsuccessful (fail) in the recently issued Plus Two results, on Monday, carried out a massive demonstration at Dhanbad district headquarter protesting against the alleged erroneous system of evaluation followed by the board.
The protesters, belonging to different colleges of the district including, P.K. Roy Memorial College, SSLNT Women's College and BSS Women's College, congregated at Randhir Verma College at around 11am and continued their demonstration for more than two hours till 1 pm during which they also shouted slogans against the JAC administration and later also blocked the Luby Circular for around 15 minutes.
Some of the agitating students however charged their respective college administration of not conducting their practical examination on time due to which they were marked absent leading to them being declared unsuccessful by JAC.
Talking to The Telegraph Online on Monday, Rohit Kumar, a Plus two Commerce candidate of P.K. Roy Memorial College, Dhanbad said, "I have been marked absent in the practical examination due to which I was declared unsuccessful but the fact remains that the practical examination was not conducted for several candidates including me due to fault of the college administration."
"Our practical examinations were being conducted in phase wise manner as per the roll number of students and since the government declared lockdown on May 22 the practical examination of several candidates could not be held in our college," said Kumar.
Kumar said the issue was brought up several times but the P.K. Roy Memorial college administration did not bring it forth before the JAC administration leading to their failure.
Soni Kumari, an unsuccessful candidate of Arts stream of BSS Women's College who also took part in the demonstration said, "The JAC administration has adopted faulty policy of evaluation due to which some to candidates who have secured less than 180 marks been declared pass while several others who have secured over 250 marks have been declared fail."
"When we enquired with college authorities today about the reasons for our failure they conjectured that as the evaluation was carried out on previous year performance and since we remained unsuccessful in 11th examination also we were declared fail in 12th final examination also," said Kumari.
Akansha Kumari, another Arts candidate of SSLNT Women's College said "The JAC has made provision for reappearing in examination for candidates who are unsatisfied with their results but we also protest against this provision because it means only those who were declared unsuccessful due to faulty evaluation of JAC will have to appear for examination while others who were declared successful due to same erroneous evaluation will not be required to write examination."