Coal protest gains steam in Dhanbad
As many as 15 people assembled and burnt effigies, while following social-distancing protocols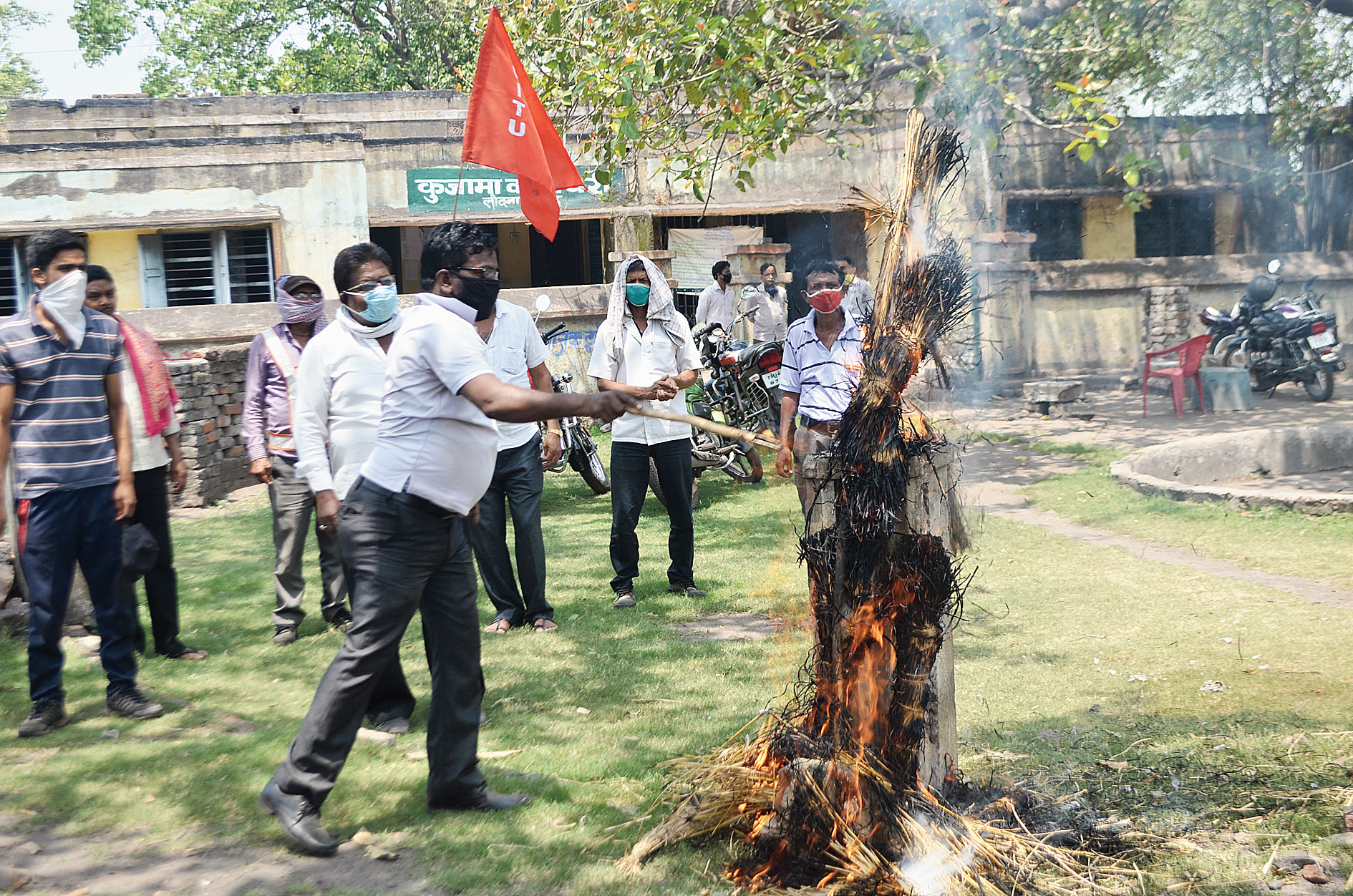 The workers burn effigies outside Kujama colliery office of BCCL in Jharia on Monday.
Picture by Shabbir Hussain
---
Dhanbad
|
Published 18.05.20, 08:37 PM
|
---
Trade unions have upped the ante against the Centre's decision to privatise the coal sector.
On Monday, members of Kujama colliery unit of Bihar Colliery Kamgar Union (BCKU), an affiliate of Central Industrial Trade Union (Citu), held a demonstration and burnt the effigy of Union finance minister Nirmala Sitharaman and the central government.
As many as 15 protesters assembled outside the colliery main gate and burnt the effigies, while following social-distancing protocols.
Members of Indian National Trade Union Congress (Intuc) and All India Trade Union Congress have also planned a national protest on May 22.
"The privatisation of the coal sector will snatch the employment and livelihood of lakhs of workers across the country," said Rajendra Paswan, resident of Mohribandh locality of Dhanbad and the central secretary of Bihar Colliery Kamgar Union.
He said privatisation of the coal sector would bring back the pre-nationalisation era when mines owned by capitalists were operated with the help of hired goons who used to carry out mining without following any scientific process and in violation of all norms.
"They also used muscle power to exploit labourers. If the policymakers in the government feel that they will implement the privatisation plan without any opposition amid the lockdown, they are mistaken. The coal workers are not going to accept any plan to sell out the mines to the capitalist forces," Paswan added.
R.S. Mahapatra director (personnel) of Bharat Coking Coal Limited (BCCL), said the privation plan was in the interest of the nation as it would lead to increased competition and better performance both by the private players as well as public sector units engaged in mining.
"After the entry of the private companies, work in the mining sector will become more mechanised. The companies will use sophisticated modern equipment, leading to higher production and time-bound completion of projects," Mahapatra said.
Regarding the apprehensions over violation of environment rules and exploitation of workers, Mahapatra said: "Mines are operated and coal excavation is carried out according to set rules, which will be applicable in equal measure to both private and companies."