Choked service lanes trigger mishaps
Tata-Kandra four-lane is becoming increasingly unsafe for commuters of two-wheelers and autos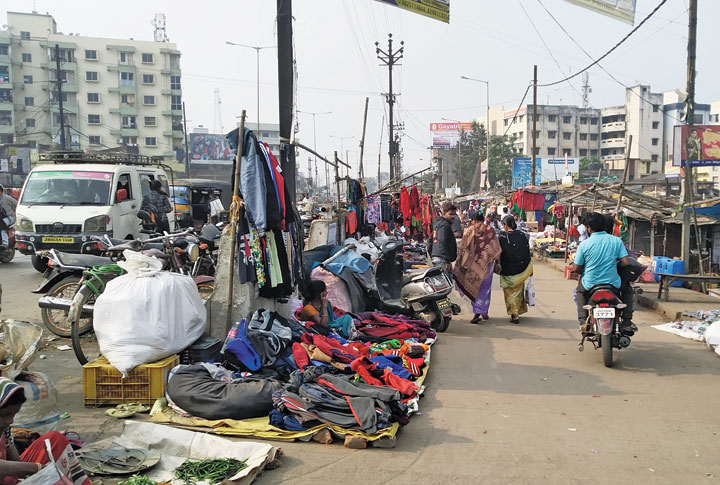 Readymade garment shops encroach upon the Tata-Kandra Road service lane near Gamharia in Seraikela-Kharsawan on Thursday.
Picture by Animesh Sengupta
---
Jamshedpur
|
Published 19.12.19, 07:25 PM
|
---
Two persons in an auto were killed on Monday evening when their vehicle hit an illegally parked trailer near Utkal Automobiles at Gamharia. Last week, a light truck knocked down a biker on the service lane of Tata-Kandra Road, choked with illegally parked vehicles.
The Tata-Kandra four-lane in Seraikela-Kharsawan district is becoming increasingly unsafe for commuters of two-wheelers and autos as they are forced to take the main carriageway meant for heavy vehicles due to encroachments and illegally parked vehicles on service lanes on both sides.
The 5km-long service lanes between Adityapur and Gamharia are out of bounds for two-wheelers as vendors have set up kiosks for garments, sweetmeats, fruit juice and even bamboo sticks. Quite a few motor mechanic shops have also come up on service lanes. To make matters worse, auto-rickshaws and heavy vehicles park at several points.
Akash Verma, who stays at Gamharia's Lal Building area, said it was a big problem. "I am a regular commuter from Gamharia to Adityapur where I work at a Tata Motors ancillary unit. Encroachments have increased on the service lanes and that creates traffic snarls and road mishaps," Verma said.
Dindli Basti resident and industrial worker Ajay Singh said he rode his two-wheeler through service lanes to and fro home and workplace as it was earlier deemed safer. "But, illegal roadside shops and stationary heavy vehicles pose a risk of mishaps especially at night," said Singh. "The situation worsened in the past few months," he added.
President of social outfit Jan Kalyan Morcha, Om Prakash, last Sunday said Tata-Kandra Road had seen over 90 mishap deaths in one year. The newly appointed subdivisional police officer of Seraikela Rakesh Ranjan warned of action.
"Rising road mishaps and encroachments on service lanes of the Tata-Kandra four-lane is a serious issue and we have decided to deal with the matter strictly. I had inspected the entire stretch of the service lane. Instructions have been given to traffic inspector Ashok Kumar to take action against encroachers and to free the service lanes," Ranjan said.