Chhattisgarh government widens health scheme ambit
Now slum dwellers in urban areas will no longer have to struggle to get a screening test done or treated in a hospital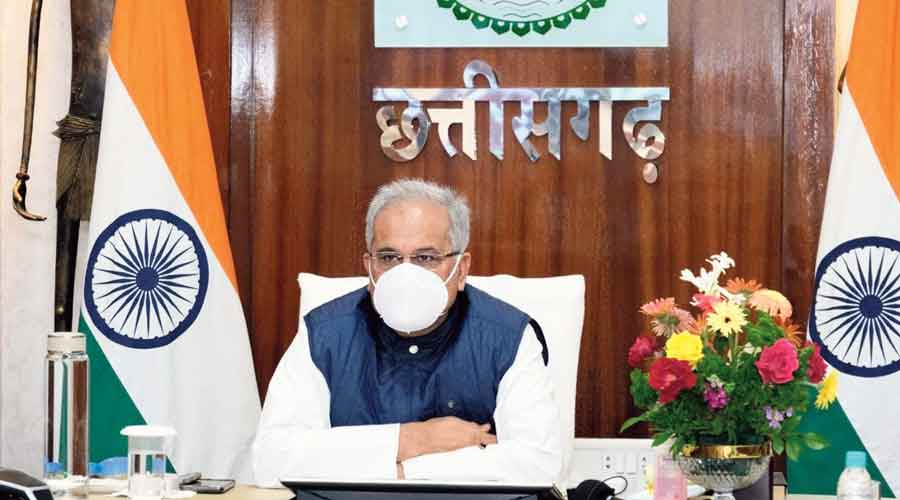 Bhupesh Baghel at his office in Chhatisgarh.
File photo
---
Jamshedpur
|
Published 30.01.22, 02:52 AM
|
---
The Chhattisgarh government has decided to widen the scope of the Chief Minister Urban Slum Health Scheme.
Now slum dwellers in urban areas will no longer have to struggle to get a screening test done or treated in a hospital.
Mobile medical units led by doctors will be stationed in urban slums to provide 42 kinds of screening tests and medicines for free.
The scheme, which was implemented successfully in all 14 municipal corporations of the state from November 1, 2020, will now be rolled out in all 169 urban bodies.
Currently, the scheme is being implemented under the chairmanship of the district collector concerned through 60 mobile medical units (MMUs) in 14 urban bodies of the state.
After the announcement by chief minister Bhupesh Baghel on the Republic Day, an additional 60 MMUs will be included, taking the total tally to 120.
A target has been set to start the scheme in other selected cities by February 21.
According to data received from the Chhattisgarh health department, over 20,000 health camps have been organised under the scheme so far and around 14.64 lakh have been successfully treated in these camps. Over 2.75 lakh patients have benefited from the free laboratory.
A total of 285 types of medicines are available for free distribution in these MMUs. Over 12 lakh patients have benefited from the distribution of free medicines that are given to patients on the basis of the doctor's prescription.
Under the Chief Minister's Urban Slum Health Scheme, the entire process of examining patients in MMUs is computerised, including registration of patients and prescriptions by doctors.
Audits are conducted by senior specialist doctors to avoid any lapses and ensure maximum benefit to the patients.
With the expansion of this scheme, 2,880 camps will be organised every month through 120 MMUs in 169 cities of the state.
The process to select service providers has already been completed by the government in all the districts and work has begun to develop hospital-like facilities for setting up MMUs in buses.