State backtracks, allows Chhath at public water bodies
Puja allowed at ponds, lakes amid Covid norms; but CM calls for indoor celebrations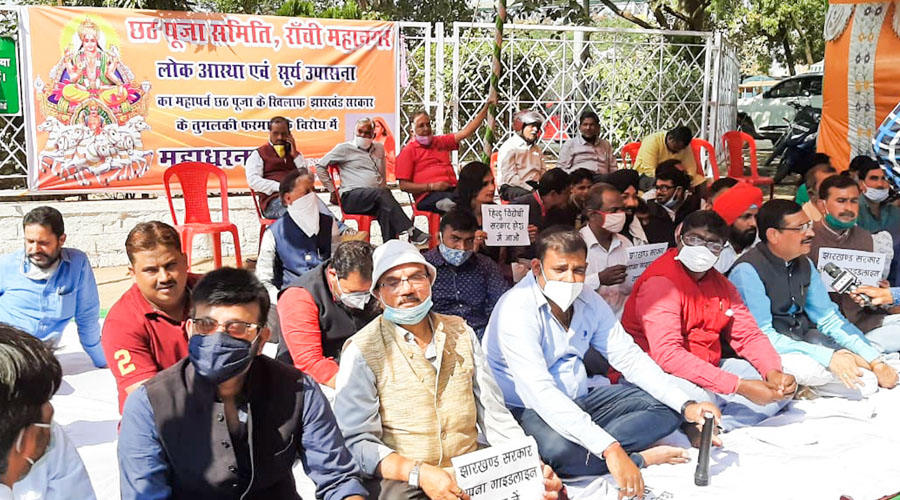 Members of Ranchi Mahanagar Chhath Pooja Committee protest against the state government's order banning Chhath at public water bodies at Morabadi in Ranchi on Tuesday morning. By evening, however, chief minister Hemant Soren had decided to withdraw the order.
Picture by Manob Chowdhary
---
Ranchi
|
Published 17.11.20, 09:09 PM
|
---
Chief minister Hemant Soren rolled back his government's decision banning Chhath puja at public water bodies on Tuesday after severe public backlash against Sunday's guidelines that were issued to prevent the spread of the coronavirus.
"Considering popular sentiments and demands from all quarters, we have decided to allow devotees to go to ghats of rivers/ponds/water bodies as opposed to the earlier order. Everyone must ensure use of masks and other safeguards while the respective district administrations and civic bodies will work towards maintaining social distancing," he told the media at Project Building.
Hemant, however, appealed to the people to celebrate the festival indoors. "Many have been observing Chhath at their houses, on terraces, lawns and so on, even before the Covid-19 outbreak. It is my personal appeal to the public to embrace this method of celebration in the interest of personal, family and public health," the chief minister said in the presence of state health and disaster management minister Banna Gupta.
Sources in the disaster management department said detailed guidelines would be issued shortly. "CM has spelt out the broad guidelines. Soon, details will be issued after these are vetted by concerned authorities," said an official.
Both ruling party and Opposition party leaders hailed the decision. The BJP claimed success of its sustained protests to safeguard "Hindu rituals" and the rights of the public. "We are happy that the government has taken back its Tuglaki farman (autocratic diktat). Public sentiments have won over the mindless order issued by the government. This is the victory over wrong policies of the incumbent government," said state BJP president Deepak Prakash.
Earlier in the day, JMM's general secretary Supriyo Bhattacharjee accused the BJP of playing cheap politics over public health, adding that the government would take a favourable decision. "Unlike BJP, this government respects all religion, caste and creed. Above all, it is the responsibility of the government to safeguard public health but at the same time our government respects every festival and will take logical decision in the larger interest of people," he said.