Chatra police arrest culprits in two murder cases
First case solved within 24 hours of recovering body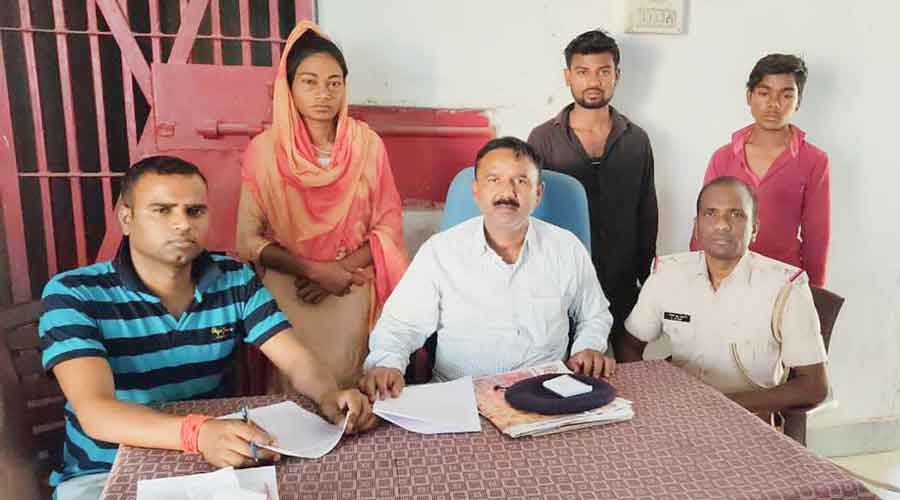 Pratappur police with the arrested trio including Kajal Kumari in Chatra.
Vishvendu Jaipuriar
---
Chatra
|
Published 01.04.21, 04:44 PM
|
---
Chatra police on Thursday arrested the offenders in two murder cases including activists associated with New Jharkhand Prastuti Committee.
Pratappur police arrested Mukesh Saw's girlfriend and two others in his murder within 24 hours of recovering his body from Karamdihtand.
Officer-in-charge of Pratappur police station, Naim Ansari said Kajal and Mukesh, both from Nandai village in Gaya district, were in a relationship.
Kajal contacted her cousin Ranjan Kumar and hatched a murder plan to get rid of Mukesh. Ranjan included his friend Ravindra Kumar in the plan.
Mukesh was called to Karamdihtand in Jaipur village for a meeting where he was attacked with a sharp edged weapon. They slit his throat and stabbed him in his stomach. 
The trio escaped in a hurry from the spot and reached Ravindra's in-law' s house. Seeing blood on their clothes, Ravindra's in-laws suspected foul play and informed the local chowkidar. The trio was arrested and during interrogation, they confessed to their crime. They were remanded in judicial custody on Wednesday. In the second case, police arrested five criminals associated with New Jharkhand Prastuti Committee in the murder of a youth in Piri Bazar.
Superintendent of police Rishav Kumar Jha said the five who killed the youth on January 17 were identified as Manoj Bhokta, Tarkeshwar Bhokta, Binod Ganjhu, Birendra Ganjhu and Manoj Ganjhu.
Jha said two were arrested from Bogadag village and three from Hurnali village under Simaria police station. Two rifles, 56 round bullets and 2 country-made pistols were also recovered from their possession.