Cervical cancer: Jharkhand to focus on screening of suspected cases
Early screening and vaccinating the symptomatic women would help achieve the purpose: Doctor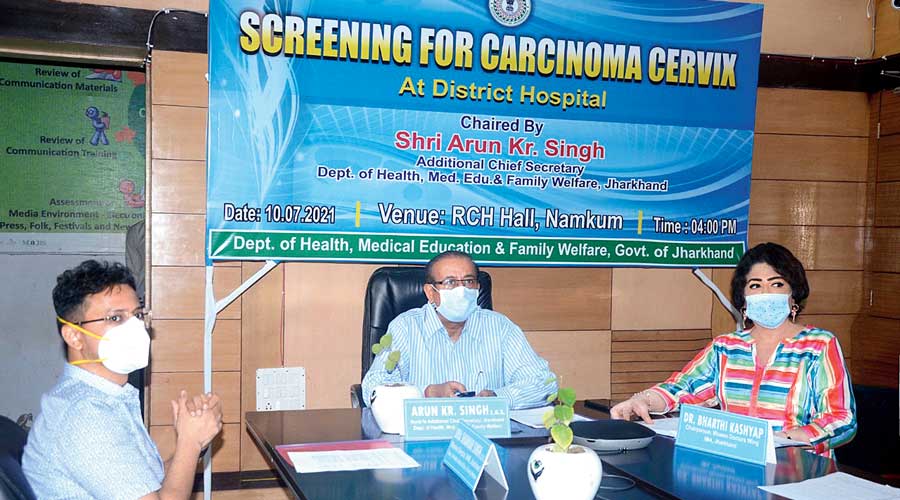 Jharkhand additional chief secretary (health) Arun Kumar Singh (centre) addresses civil surgeons during the online orientation programme on Saturday.
Manob Chowdhary
---
Ranchi
|
Published 11.07.21, 12:58 AM
|
---
The Jharkhand government will focus on screening of suspected cases of cervical cancer to prevent the spread of the disease, officials said during an online orientation programme on Saturday.
The state health department also fixed screening targets for district hospitals during the programme.
"The targets were fixed just to give the initiative a momentum. Otherwise, all suspected patients need to be given proper treatment," additional chief secretary (health) Arun Kumar Singh, who presided over the programme, told the civil surgeons of various district hospitals.
Though it kills a huge number of women, cervical cancer — a tumour of the cervix or the lowermost part of the uterus — can be prevented if treated on time, the doctors were told and advised to intensify screening at the government facilities they head.
"On an average, 185 women die of cervical cancer everyday," said Dr Bharati Kashyap, president of the women doctors' wing of the local branch of Indian Medical Association, who is involved in the initiative, and took part in the programme.
"But the cancer takes upto 10 years to blow up fully and, as such, enough time is available for preventing it from spreading further if diagnosed at an early stage and treated properly," she further said.
Early screening and vaccinating the symptomatic women would help achieve the purpose, she added.
The cryogenic machines needed for screening are available at Sadar hospitals in 11 of the 24 districts of the state but they are not in use at many of these facilities.
Many doctors of the district hospitals were also given training for screening such patients by Dr Kanika Gupta, director of gynaecological oncology, Max Superspeciality Hospital, New Delhi.
"The spread of the disease can be checked but we need to work with an aim to eradicate it," said Dr Gupta who joined the programme from New Delhi.
When requested, she agreed to address the doctors of the state on the topic online and also conduct a training programme in Ranchi in September.
Singh directed the civil surgeons to start screening such patients from next week itself and also gave them initial monthly targets.
The targets were worked out to 15 per cent of the average number of women visiting the outpatient departments of the hospitals with gynaecological problems in a day.
Accordingly, Ranchi Sadar Hospital was given the maximum target of screening 180 women every month while the Jamtara hospital was asked to screen the minimum of 22 patients.