Central Institute of Mining Fuel Research celebrates its platinum jubilee
During the foundation day, the guests stressed upon the need of path breaking research being done to solve the issues affecting humanity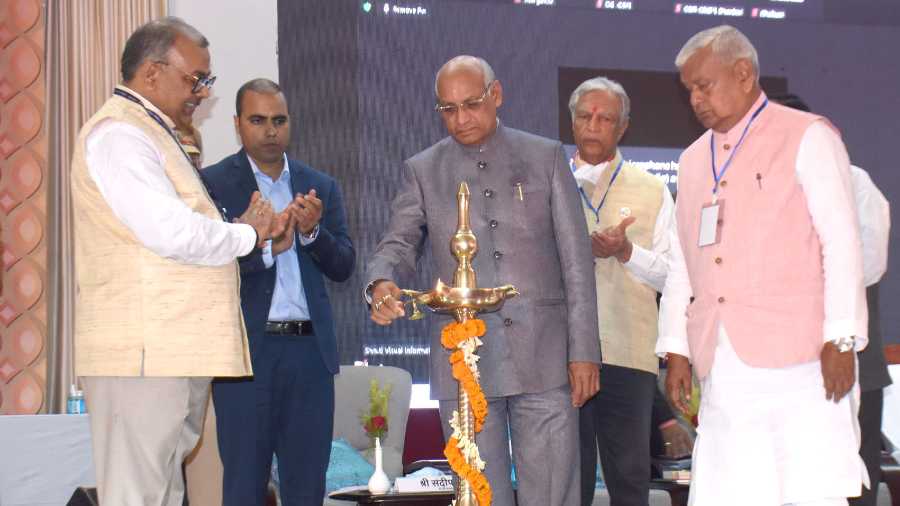 Governor inaugurating the CSIR-CIMFR Platinum Jubilee Valedictory Function at CSIR-CIMFR auditorium in Dhanbad on Wednesday.
Gautam Dey
---
Published 17.11.21, 07:18 PM
|
---
As Dhanbad-based, Central Institute of Mining Fuel Research (CIMFR), the premiere research institute of Council of Scientific and Industrial Research (CSIR), celebrated its platinum jubilee, state Governor Ramesh Bais stressed on path breaking research to solve issues affecting humanity and urged scientists to develop technology to produce Hydrogen as clean source of fuel out of water.
He was speaking as the chief guest during the function that was hosted at the institute's auditorium at Barwa Road. Also present at the event were eminent scientist and NITI Aayog member Vijay Kumar Saraswat; Director General of  CSIR, Shekhar C Mande and Chairman of Research Council of CIMFR, ES Dwakadasa besides Dhanbad MP, PN Singh. Bais, "Such research will not only help generate clean sources of energy but also help in realising the vision of  self-dependence in every area of our Prime Minister, Narendra Modi."
Exhorting youth to work with the passion for all round development of the country he said, "Research should be done with passion, with the intention of solving issues that the nation is facing."
He also expressed concern over brain drain. He said, "There was a time when students from across the world used to visit the prominent universities of our nation like Nalanda and Vikramshila University but now many of us feel proud claiming that their children are pursuing education in foreign colleges and universities."
Highlighting the issue of coal being imported from foreign countries despite its availability in India, Bais said that existing anomalies need to be sorted out by the scientific fraternity.
Saraswat, during his speech laid emphasis on translational research, patenting etc and said that due India is laying stress on phasing out of carbon for which there is an urgent need to control the emission of thermal power plants and simultaneously lay emphasis on the usage renewable source of energy 
"The challenge before us in the coming days is the production of Hydrogen as a clean source of fuel from coal," said Saraswat and while laying emphasis on development of indigenous technology for self-dependence.
Institutes like CIMFR and IIT (ISM) should work for the development of all equipment needed for mining be it hammer or sledge that's needed for mineral exploration. He said, "It is a pity that despite the presence of huge reserves of minerals all the equipment required for mineral extractions are imported from foreign countries."