Central Coalfields Limited steps up fight against pandemic
CCL signs pacts with several district administrations to the tune of Rs 10 crore to provide facilities for the patients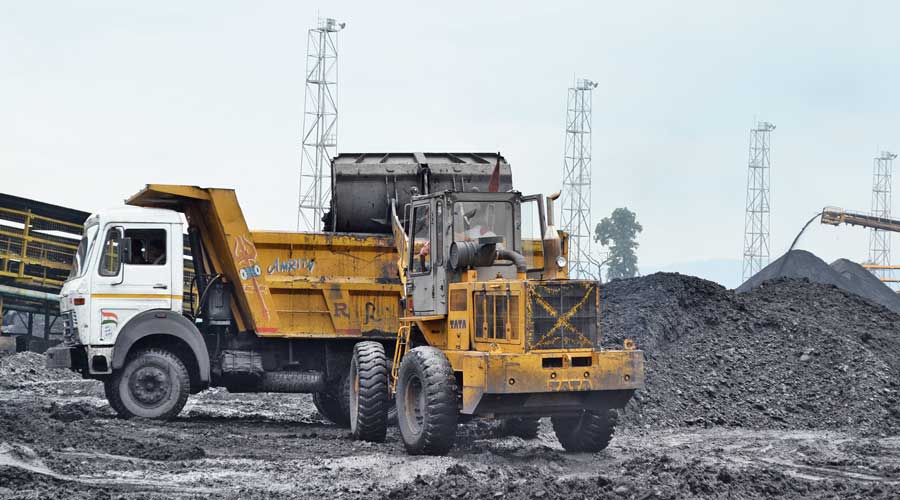 Work on at a CCL mine in Jharkhand's Chatra.
Bhola Prasad
---
Jamshedpur
|
Published 16.05.21, 02:14 AM
|
---
The Central Coalfields Limited (CCL), a Jharkhand-based subsidiary of the Coal India Limited, has stepped up its fight against the pandemic by signing memoranda of understanding with several district administrations to the tune of Rs 10 crore to provide facilities for Covid patients.
"This is a time of pandemic and we are committed to serve our stakeholders. We have inked various MoUs with local administrations to set up ICU units, build infrastructure, etc, for giving better treatment to Covid patients. We have signed eight separate MoUs with the district administrations of Ramgarh, Latehar, Chatra, Bokaro, Ranchi, Giridih, Palamu and Hazaribagh for the treatment of Covid patients as well as building infrastructure in hospitals," said CCL chairman-cum-managing director P.M. Prasad.
Recently, the CCL management signed an MoU with the Latehar district administration for setting up a 12-bed ICU facility with oxygen pipeline at the Sadar Hospital.
"Apart from this, we are helping in setting up a PSA (pressure swing adsorption) oxygen plant and strengthening the ICU at the Sadar Hospital in Chatra district as well as a digital Covid centre and high-tech ambulance with oxygen in Bokaro district. We have signed a MoU with the medical college in Hazaribagh for procuring 100 oxygen concentrators, 100 jumbo cylinders, 100 B-type cylinders so that Covid patients get treatment in the district itself," a CCL spokesperson said.
The CCL-owned Gandhinagar Central Hospital in Ranchi has been converted into a Covid hospital by the district administration. The CCL has earmarked a budget of Rs 7.08 lakh under its corporate social responsibility plan for procurement of drugs, masks and oxygen cylinders for Covid wards.
"The CCL-owned Gandhinagar hospital in Ranchi, Central Hospital in Ramgarh and the Dakra, Rajrappa and Dhori hospitals with a total of 295 beds are serving as Covid hospitals in coordination with the district administrations and rendering free treatment to coronavirus patients. In 2020-21, we contributed Rs 26 crore to the central and state governments for tackling the Covid-19 pandemic. The CCL also contributed Rs 1.25 crore to the administrations of eight districts where our mines are operational, including Ranchi district. We also contributed Rs 129 lakh last fiscal for the distributions of dry food grains, masks, sanitisers, etc," the spokesperson said.
The CCL has lost around 47 employees to Covid.
"Despite the death toll due to the ongoing pandemic, the CCL has recorded 112 per cent increase in production at 4.84 million tonnes in April 2021. The CCL had recorded 2.28 million tonnes of coal output in April 2020," the spokesperson said.