Caste: PMO asks Hemant to meet Shah instead
JMM accuses Centre of 'step -brotherly' treatment to Jharkhand, points to Modi-Nitish meet on reservations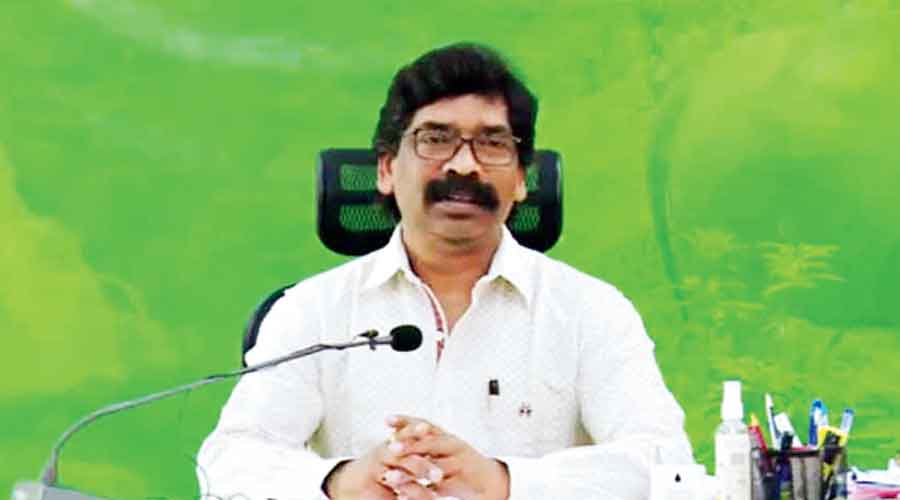 Hemant Soren.
File picture
---
Ranchi
|
Published 22.09.21, 09:45 AM
|
---
Prime minister Narendra Modi has not given an appointment to Hemant Soren to discuss the need for a caste based census in the upcoming national population survey, but has suggested that the chief minister rather meet Union home minister Amit Shah whose ministry is dealing with the issue, the JMM said on Tuesday.
Insiders in the JMM, that is heading a coalition government in the state, pointed out how the PM had agreed to meet Bihar CM Nitish Kumar, who is leading an NDA government, and  accused the PM of  "step brotherly treatment  to Jharkhand".
The JMM said it was now hoping to get Shah's audience either this week or next week.
Addressing the media, JMM general secretary Supriyo Bhattacharjee said, "On September 8, the  CM had written to the PM asking for his time to lead a nine-member delegation of parties to discuss  the need for a  caste based census in the nationwide population survey. Also, we want to press for implementation of a Sarna code, a seperate religion column for the Adivasis. However, we received an email from the PM's residential office the next day with an advice to meet Home minister as survey comes under the jurisdiction of this ministry. We hope to get an appointment with Amit Shahji either this week or next week.
"May be next time he will spare time if he is really concerned about Jharkhand and its needs." 
Opposition BJP has refused to be a part of a Hemant delegation. State unit  president Deepak Prakash claimed the JMM never extended a formal invite, but that even it did, the BJP would not be a part of it. 
"The Hemant Soren government is doing cheap politics over caste based census and OBC reservation. We will not be a part of any such trick. BJP will rather tend to meet PM or others at the Centre on its own to raise state's issues as and when needed," he said.
Bhattacharjee criticised the BJP for its stand. "We wanted the delegation to be an  all- party one. But with the BJP announcing that it would not  be a part of it, it has exposed itself on the issue," he retorted.