The butterfly effect, as anyone who has seen the 2004 Hollywood film of the same name or is into chaos theory would testify, is the connection between unrelated events. But last month, the state capital saw a different kind of butterfly effect.
Prabhat Kumar, 76, who has been identifying different species of butterflies in Jharkhand for the past 20 years, saw swarms of butterflies, in thousands, flying through the city during April 20-28 between 9am and 11.30am every day.
"I never saw so many butterflies of a particular species in Ranchi and have since been wondering if they also have a migration route in this region," said Prabhat, who has been pursuing this hobby of identifying butterfly species in the state since his retirement as chief general manager (environment) in CCL.
"These are immigrant common butterflies," he said, adding those are also known as lemon emigrants because of their colour and have scientific name Catopsilia Pomona.
Such migration of butterflies is recorded in the Western Ghats but not in Jharkhand, he said.
He has so far recorded over 175 species and written two books on his findings — Winged Beauty and Butterflies of Jharkhand, published by the Jharkhand Biodiversity Board in 2012 and 2016 respectively.
"I also observed certain peculiarities," Prabhat said.
The swarms of butterflies were seen flying over the city for the first time and his queries with friends confirmed their flight was in the same direction every day — from north-east to south-west.
"Instead of normal zigzag, they flew past straight before noon," he said, adding that climatic conditions between April 20 and 28 may have been favourable for them.
The day temperature in Ranchi was below normal those days and the wind speed was very less in the first half, Prabhat said when asked to explain the favourable conditions.
The butterflies, he said, may have chosen morning hours because the weather in the afternoon became unpredictable and often in turmoil those days.
"I'm not sure as nothing is recorded so far," he said when asked if those butterflies used to avoid the city and flew over the forests in previous years.
But he didn't rule out the possibility. May be they chose to fly over the city as it had a clean atmosphere and was also calm, with no traffic and noise because of the ongoing lockdown this year, he said.
"I found this phenomenon very interesting and have been contacting my friends and acquaintances if they can help gather more information about their exact pathway," Prabhat said, adding such information would help know if the butterflies have a regular migration pattern in this region also.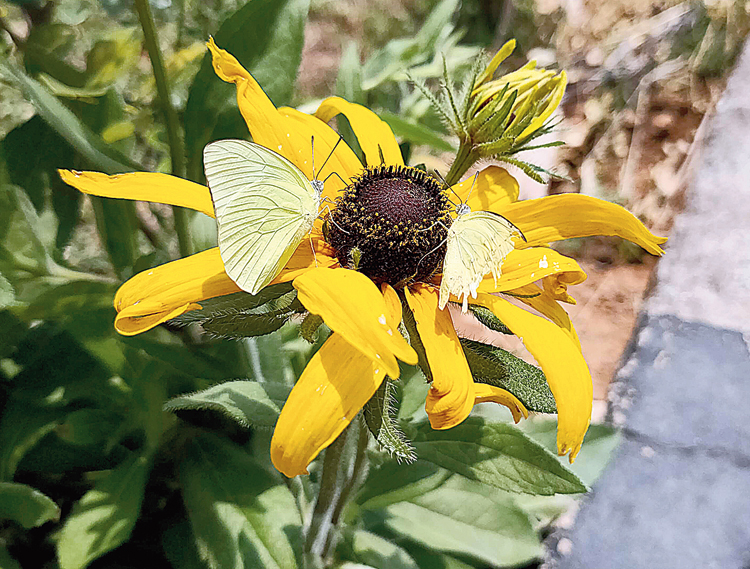 Butterflies spotted at Khelgoan in Ranchi on Sunday.