Blackout capital hopes for turnaround
Power cuts rile every citizen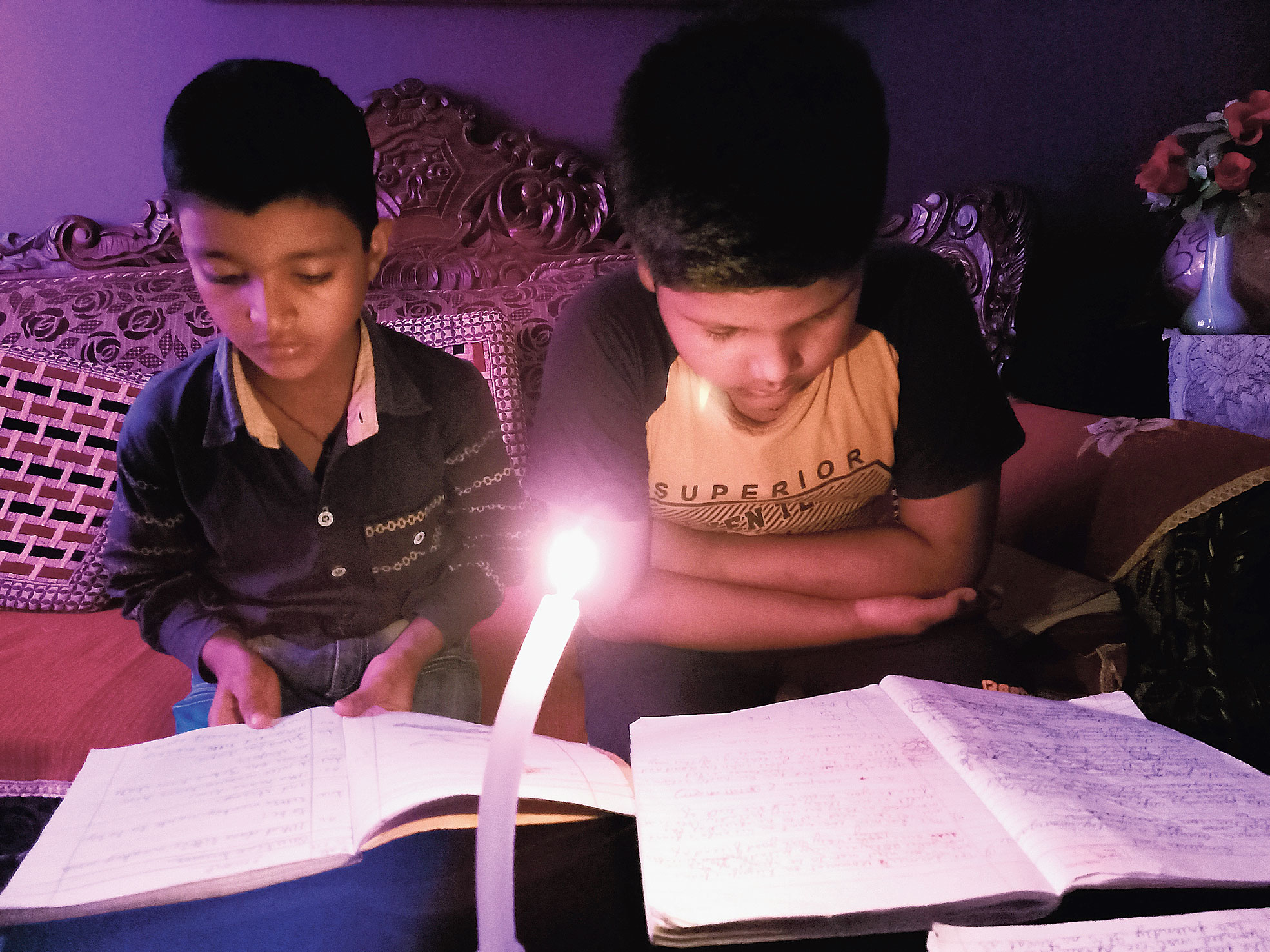 Children are forced to study in candlelight during a power cut in Kokar, Ranchi, last week.
Picture by Manob Chowdhary
---
Ranchi
|
Published 06.07.19, 06:55 PM
|
---
Frequent blackouts continued to test the patience of residents in the capital even as the chief minister issued a stern order on Friday asking the state power officials to improve the electricity supply by July 31 in Ranchi and in three months across the state or heads will roll.
Since May, the state capital has been facing blackouts — long hours of outage or power tripping almost every hour — across all areas, including the upscale ones.
Sumita Sinha, a homemaker who lives in the Purulia Road locality of the capital, said she was fed up with the "tripping". "One doesn't get even one hour of continuous power supply during the day when a lot of work has to be done. Who will compensate if my household gadgets such as washing machines and microwave stop working due to frequent power outages?"
A young resident of Morabadi preparing for competitive examinations, Debu Mukherjee, echoed Sinha saying he could study throughout the night last Tuesday. "In Morabadi area, there was no power throughout the night. I was thinking whether I live in 21st century or in the stone age," Debu said.
A resident from Dhurwa's Sector II in HEC Township, Nand Kishore Singh, said he had a harrowing time last week. "After 15 hours of non-stop blackout on Wednesday, I tried to find out the reason. JBVNL workers said the transformer had burnt and it will take at least two days to restore power," Singh said.
Small irritants happen every day, Piska More resident Deepak Mahto said: "I remember recently there was no power in my locality from 10.30am to 1.30pm on a day my whole family and I had to attend a function. We have an electric iron but could not get clothes pressed at home. I had to hunt for a press-wala to get our clothes ironed and had to pay him Rs 200."
Jharkhand Bijli Vitran Nigam executive engineer Rajesh Kumar Mandal defended the power supply company saying during monsoon, some "local problem" does crop up but each situation is handled and power restored without much delay.
"Monsoon is not like summer. The load is less. There is no major problem except when branches of trees fall on overhead wires or an insulator is hit by lightning. We are cutting branches of trees leaning on overhead wires," Mandal said, adding they were trying to ensure zero power cut in the city. "Many areas of Kanke and Upper Bazar get not less than 23 hours of power," he claimed.
On Friday, CM Das said July 31 was the deadline to power companies to improve transmission and other glitches in the capital.
"Deliver or get ready to be replaced," the CM is learnt to have said while chairing the review meeting of the energy department at the state secretariat.